Go down the river! Row hard together!

Splash! We feel great!

Best memories with BIGSMILE

Enjoy rafting with your friends

Not stop laughing in Okutama rafting.

Get excited in the Tama River

Can you jump be calm?

Make good memories together
The feature of Okutama Rafting
Enjoy Okutama rafting together with breath!
Rafting Fee
Credit support.

Fee
from the last ten days in April to the middle of October
JPY3,980(including tax-8%)~
JPY3,686(excluding tax-8%)~
the charge after reservation discount on the website
including wet jacket and accident insurance
Meeting Time
usual season
start9:00 finish12:00
start13:30 finish16:30
busy season
start9:00 finish12:00
start10:00 finish13:00
start13:30 finish16:30
start14:30 finish17:00
Finish time depend on the condition of the river.
Age Limit
Minimum age is 7, and under 12 must join with a parent or a guardian.
Rafting Fee
(WEB Discount)

Year:2019Month:10 Booking & PriceSheet

Click the date (schedule).A rate list is indicated.
Introduction Okutama Rafting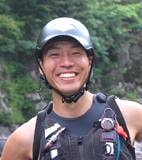 Okutama Mitake takes 90 minutes from Tokyo by trains. You get an exciting and thrilling experiences on Okuatama Rafting. Tama River of Okutama is famous for clear water, Okutama Mitake Area is well-known. You can see beautiful scenery in each seasons. And also you will enjoy rafting on summer vacation. You can try Okutama Half day rafting because it is valuable and reasonable price.
[continued from here]
When we go down the river, through Mitake Valley, nature, big, you can enjoy fully. You can walk along an esplanade about 4 kilometers by the Tama River. For a friend group,lovers, a family, the best tour. The domestic maximum scale, the educated polite staff, relief and trust, be chosen from nearby 100 school trips every year. Enjoy your rafting as BIGSMILE!
Tour Schedule
Meeting at Okutama Base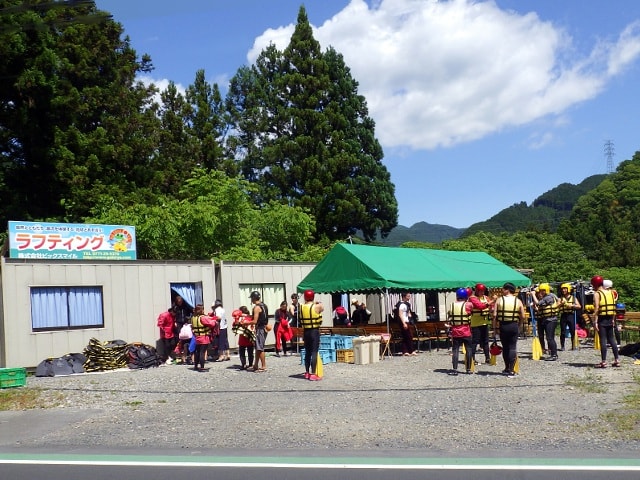 Okutama Meeting base takes about 5 minutes walk from Mitake Station of JR Ome Line. There are coin lockers and air conditioners in changing rooms. You fill in the participation application form , and change for the wet suit in the room, we are ready to go rafting.
More information

In the changing room, there are some safety boxes for your valuables. Also enough of free wet suit and variety of sizes(XS~4XL)

We clean the changing room every day.
After you changed, put on a life jacket and helmet.

Now we are going to the starting point by 3 minutes walking. Getting and coming excited!
Now, it is time to go rafting!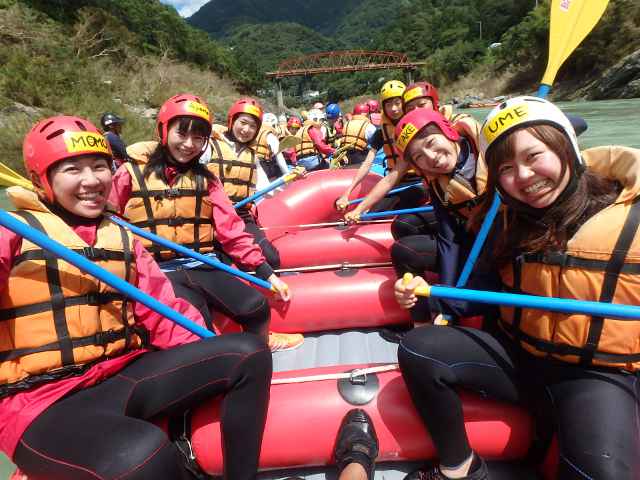 After the tour guide explains about safety and practicing of paddling, we will go down the river. It takes one and a half hour rafting about 4.5 kilometers. Let's enjoy the greatest scenery in Okutama River.

Row the boat together!

Let's do it as a team! We are the teammates on the same boat. Be on good time and enjoy yourself by everyone♪
More information

These are today's boats for you. This boat is 7 seats of the biggest basis. Row the boat together and arrive until a goal.

At first, rowing a boat practice. Of BIGSMILE, friendly tour guides teach you it kind politeness gently. Any questions OK!

It is time to beginning! Please enjoy the thrill which can't be tasted by ordinariness and extraordinary feeling.
Try rafting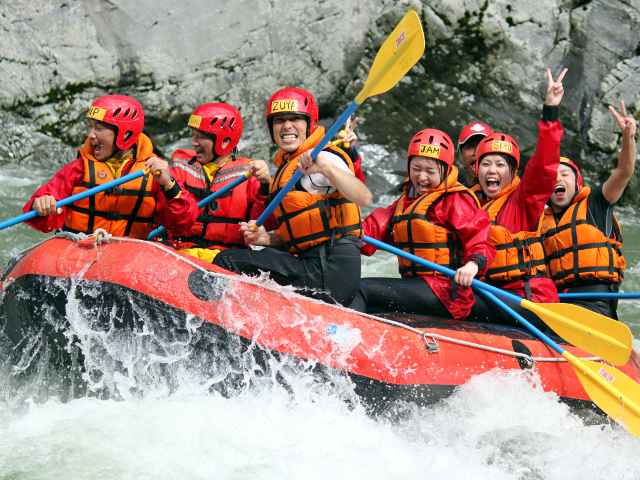 Go down the torrent, named "Cup Star no Se" "Shobo no Se" "Start no Se", you can see "Mituiwa no Se", the biggest hurdle on Tama River. Go through the torrent between the rock and the rock.
More information

Before the big torrent rafting, our tour guides teach you how to raft the boat kindly.

That is the most important point of rowing our boat together.

After the three big torrents, we try rafting more torrents, Tate-chin, Misogi no Se,San Entei. Don't let your guard down!
Some activities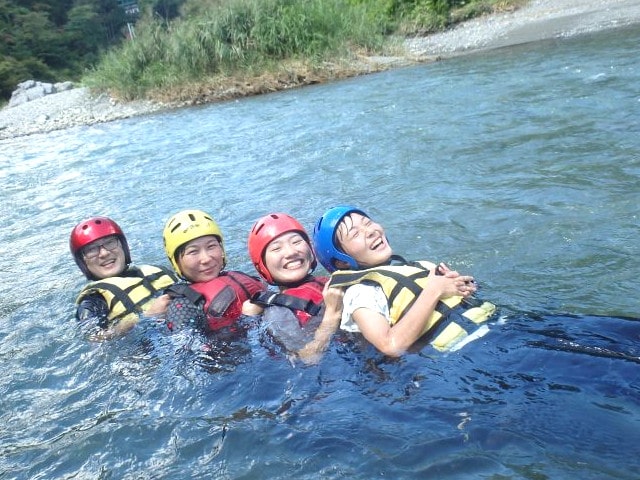 Jumping from the rock!( if you try it)

The level of high fits yourself

During the rafting, we can do some activities, swimming in the river and jumping from a rock. You can chose the level of high, and don't be afraid of jumping from rocks.
More information

You can swim in the river at the point, if you want to. Even if you can't swim, please don't worry because the life jacket are floated you on water.

In the beach side of the Tama River, you can try some activities. What kind of activities would you like to play today?

We do some activities "The TITANIC" and "Seesaw". Wanna try that?
~Arrive at the goal point~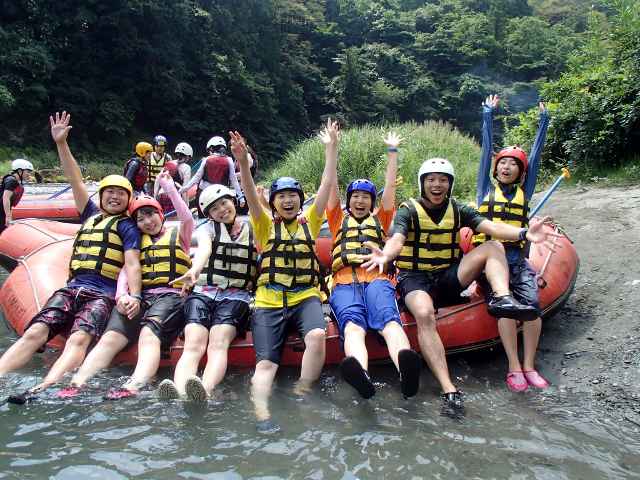 We will go back to the Okutama Meeting base by our passenger's bus. Finally,screenings of photographs taken today.
More information

Now we are here! Make a big smile with your friends and family.

After the goal,we go back Okutama Mitake Meeting base by our passenger's bus about 15 minutes ride.
At the meeting base,we change into clothes and break up. If you have time, Please check some photographs we took you today.
What you need?
helmet, life jacket ,paddle and so on are prepared by BIGSMILE for free
It depends on the weather situation of the day, we prepare another wears.
You need to prepare for Okutama Rafting
bathing suit
Towel
Shoes for rafting (It will get wet)
during summer sunny days (July to September) who don't need wet suit
who wear glasses and contact lenses
More information of Okutama Rafting

We prepare for you

wear

paddling jacket(on the left)

We have paddling jackets for windy and rainy weather for protect you from cold climate. You are not strong to the cold, you wear it.

wet suits(in the middle)

The wet suits, we prepared is made of neoprene material. You can enjoy rafting with this wet suit even in the cold weather. Enough to wet suit and variety of sizes(XS~4XL) But we don's have enough 4XL size, please contact us beforehand.

wet jacket(on the right)

In the cold day or you are not strong to the cold, we are ready wet jackets for you. There are a lot of situations idle at a river for a child, so the child wears a wet jacket for all seasons.

gear

helmet

In the river, there are many rocks and drift wood. You need to wear a helmet to protect your head. We have various sizes.

life jacket

For your safety, you have to wear a life jacket one by one. Whenever you are not good at swimming, you can float on the water with the life jacket.

paddle

Paddles are an essential element of rafting. We row the boat with the paddle. We have a small size paddle for a child.

You need to bring yourself

necessary belongings

bathing suits

You wear your bathing suits under the wet suits. Underwear is substitute for bathing suits. the underwear get wet in the river water, bring your one more underwear for changing.

towel

After the rafting, you use your towel in the changing room for dry your body. You don't bring it to the river.

Paid rented

shoes for rafting

Please bring your sport sandal or sneakers. CROCS are not good, because heels should be firmly fixed. You can rental our shoes for JPY300/ for each pair.

other belongings

sunscreen

Cause of reflection of ultraviolet rays is strong, it's very easy to get a tan in the river. You should bring sunscreen, waterproofing sunscreen is more good to protect you.

disposable contact lens

We don't recommend the type of hard contact lenses. Even if you wear soft contact lenses, contact lens often come off in the water. You can rent our goggles for JPY100/ for each. And also we are ready for you who wear glasses rent glasses band for JPY100/ for each.
Access to Okutama Rafting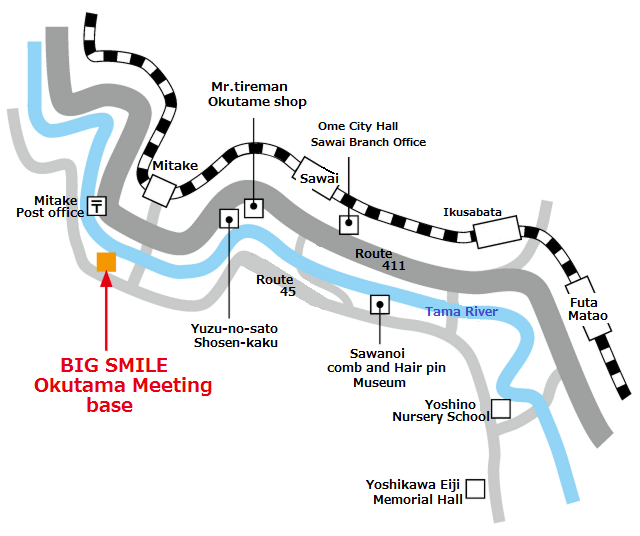 Meeting Place

BIGSMILE Okuatama base
direct phone line
Address

ZIP-code: 198-0174
1-178- 1 Mitake, Ome-shi, Tokyo
Tokyo area → ( Chuo Way) →Hachioji JCT → (Tokyo metropolitan area Chuo Expressway) → Hinode IC →( 35 minutes on local road) → Okutama Meeting base
Free parking lot for 10 cars

Please set up the car navigation system "JR Mitake Station". Okutama Meeting Base is near the station.


JR Tokyo Station → (Chuo Line) → JR Tachikawa Station→ (Ome Line) → JR Mitake Station→ (5 minutes walk) → Okutama Meeting base

There are direct trains from Tokyo Station to Ome Station.
Between Ome Station and Mitake Station have 2 or 3 trains for one hour. Please check the time table of trains.
Okutama Rafting Course Map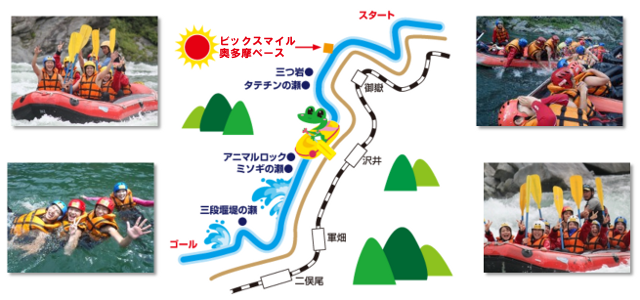 Mitake Valley has a lot of torrents!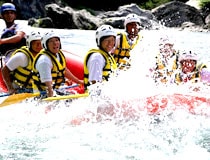 "Row hard!""Keep going!""Squat!"we pour water on myself from the beginning and go down the river. Rafting make us split our sides by laughing. Let's try rafting, Mitsu Iwa,Tate-chin, Misogi no Se.
Our mind and body refresh in the Tama River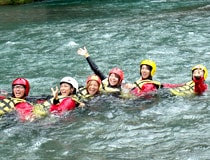 We do some activities like a jumping and swimming in the river. Let's have a wonderful time together.
Okutama Rafting is possible to participate from 7 years old. You can see beautiful scenery for each seasons. In the summer season, you can participate in rafting with T-shirt and short pants. Of course, we prepare for free wet suits for you, even cold river water. You have a good time on your holiday with your friends and family. Even if you are not good at swimming, you are OK! Our tour guides explain safely tightly so that the one even beginners swim to be able to participate. And we prepare life jackets and helmets for safely. Come and Enjoy for your vacation by Okutama Rafting.
BBQ Spot
Aka Tombo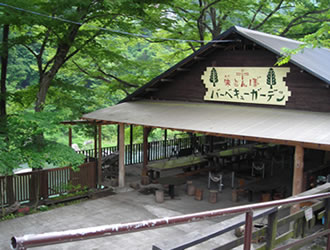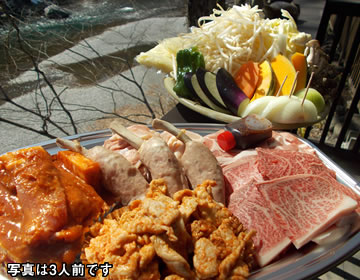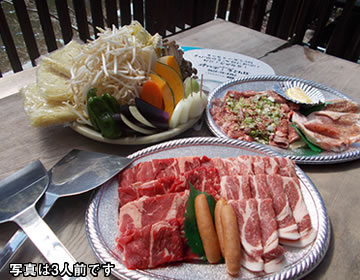 This Hot Spa takes 5 minutes by car from Okutama Meeting Base, and 10 minutes walking from Ikusabata Station. Aka Tombo has a special BBQ plan, only weekday.
No need, just bring youeself!
Contact and Reservation
Check the website of Aka Tombo,
"Schedule for Reservations"
and get a reservation.
Aka Tombo Barbecue House website

Info about Okutama Rafting
Umeno Yu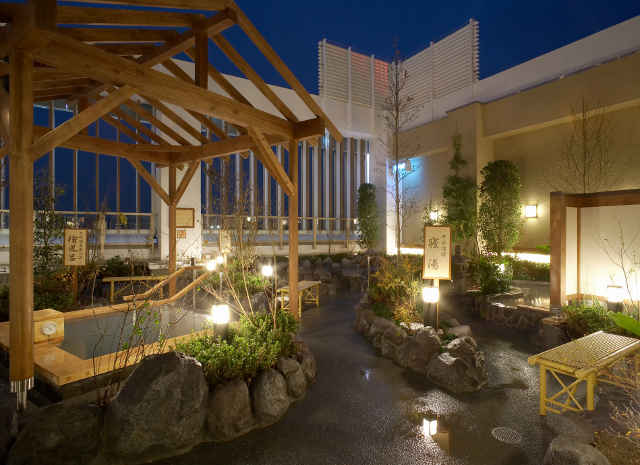 It takes 20 minutes by train from Okutama Meeting base to Umeno Yu, located near JR Kawabe Station.
★Fee★
adult JPY860
child JPY430 (from 3 years old to 6th grade elementary school student)
※ free shampoo and soap for body. They have paid rented for taking a bath.
Umeno Yu website
Traditional Handmade Soba(Japanese noodle) Tamagawaya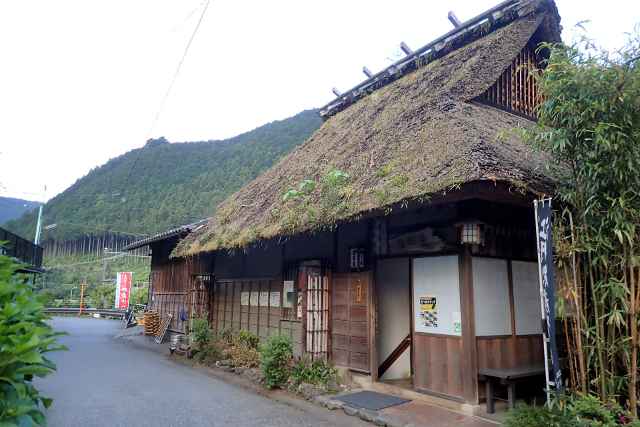 This noodle restaurant takes 2 minutes by car from Okutama Meeting base,handmade noodle.
You also have cooked river fish not only noodles.
All seats are 70
open : 11:00~18:00
Tamakawaya website
Sawanoi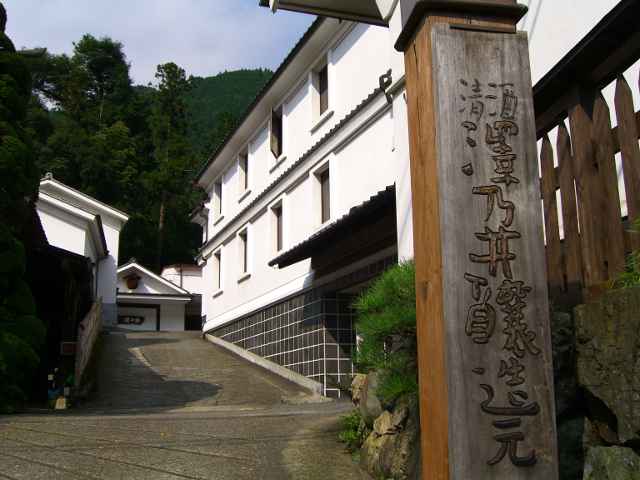 This sake( Japanese rice wine) cellar takes 3 minutes by car from Okutama Mitake Meeting base, and 5 minutes walk from JR Sawai Station. They have a tour in a sake cellar, sake tasting, souvenir shop, art museum, not only a restaurant.
Sawaiya website
Let's Enjoy Together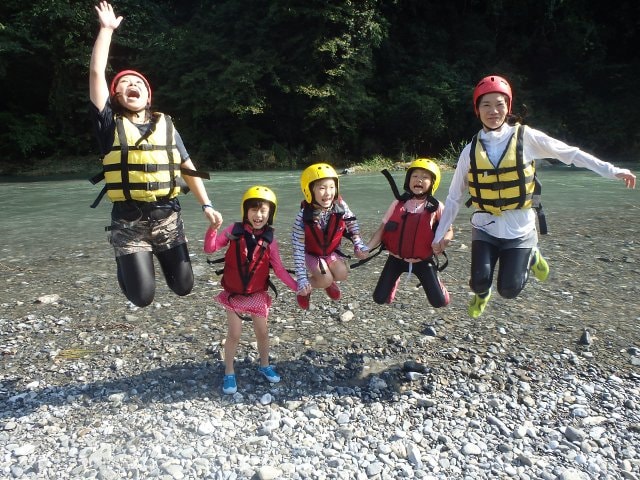 Tokyo Okutama River is made you happy with your family, friends, go-workers, and everyone good for rafting. You can swim in the river and jump from the rocks, if you want to try. (depends on the situation of the river) Please make some good memories with your family and friends.
About Tama River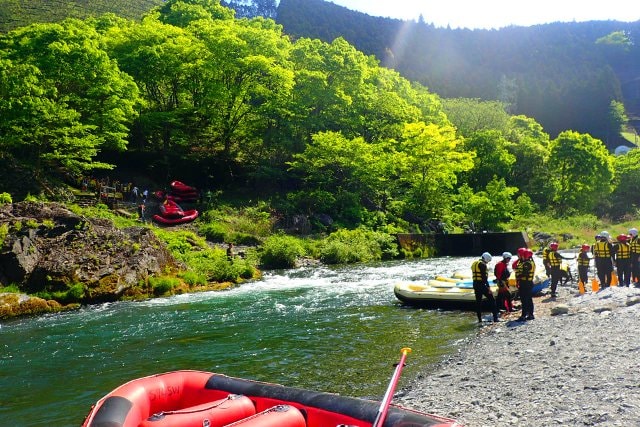 We go down the river through Mitake valley,  has been chosen as one of the Select Best Waters of Japan. Both of the river side have esplanades, about 4 kilometers length. You can enjoy beautiful landscapes during rafting, fresh green leaves in spring and colorful leaves in autumn. And also, there are some restaurants, for Japanese noodles and cooked river fish. The activities spots are made you satisfied.
Impressions of Okutama Raft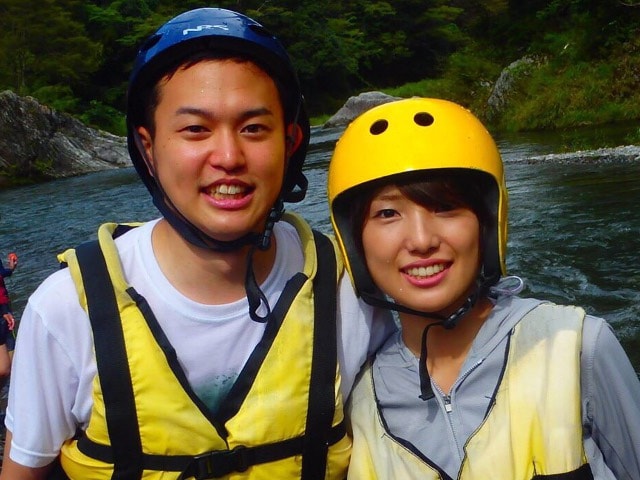 Nicknamed "Shige-san", he enjoyed Okutama Rafting.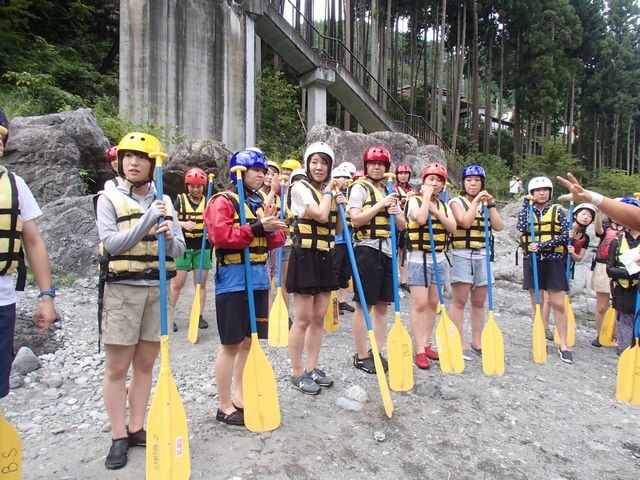 I looked for the place where you can play around near here and found this BIGSMILE Rafting. I didn't know the place which overflowed naturally in Tokyo area. I was so excited the scenery of Okuatama. But on the other hand, I felt nervous about rafting. That was my first try.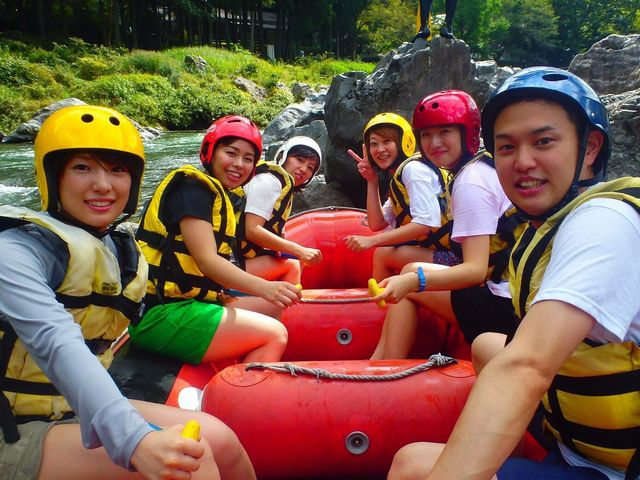 I enjoyed the rafting as I had returned to a boy. The same person on the boat and became good friendship. We did some activities, floating like a sea otter.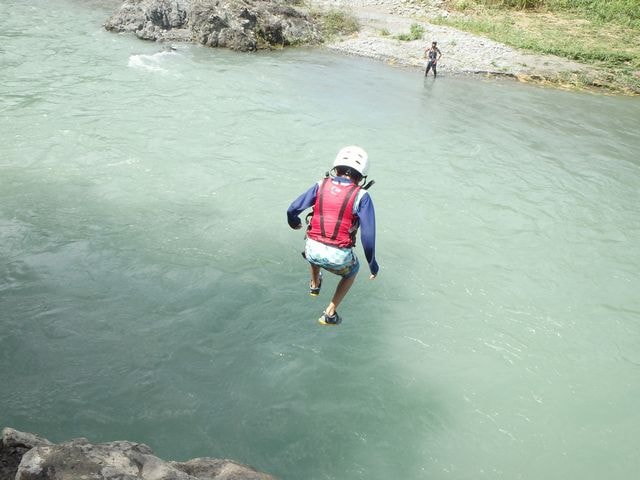 It was my first time to jump from the 4 meters high rock. I felt scared, but I did. I didn't think I went down the river by this rafting, so it was satisfied committee very much.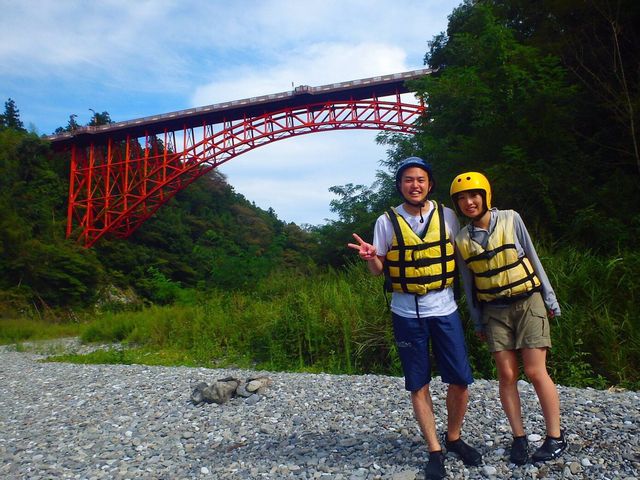 That was my good experience rowing hard the boat together. When doing a goal,the feeling of achievement was felt. That experience was amazing that it can't be easily. I'd like to try it again by all means.
FAQ Okutama Rafting
Q. How much length is Okutama River rafting ?

We go down the river about 4.5 kilometers of distance. When I say at the station, it's the station for Mitake Station and Futamatao Station. I may find to say 4.5 kilometers lengthily, but the speed by which time passes beyond expectation is fast. Most of the people say "I would like to do that once again!". There are some activities in the river,kayaking, canoeing and SUP(stand up paddle surfing). And you can enjoy rock climbing,hiking and fishing by the river. Okutama River has a river point of going down like a sea otter. You have a great time by Okutama Rafting!
Q. Are there any places to have a BBQ?

Yes. they have a lot. Nearest the Mitake Meeting base, you can have a BBQ with your brings for BBQ at Samukawa Chushajyo, free parking lots. When you come here by car, there also is a BBQ area with all rent for BBQ.
Q. Can I raft having on my period?

Yes, you can. We recommend you using TAMPAX, not sanitary napkins. Because napkin is suck the river water. We are ready for TAMPAX in the restroom. If you don't know how to use TAMPAX, you can check the poster about TAMPAX.
Q. Are there any spots taking photos of rafting?

Yes, there are. You can take them by the river. Okutama has hiking courses along walking by the river. So that is a good point for taking pictures.
Comment from CEO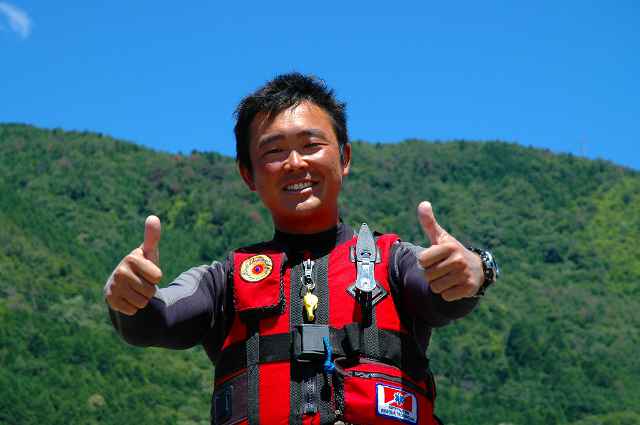 There are three points I will recommend you Okutama Rafting.
First, it is located near Tokyo metropolitan area, only takes about one hour.
They have the great and brilliant landscapes place which very conveniently located.
Second, the clearly water of the river makes you refresh. That's neat!
And the last reason I recommend you, they have many rocks with wild torrent.
Each torrents make you exciting and thrilling.
Have a try!

Limits for Rafting
Age limits

Minimum age is 9, and under 12 must join with a parent or a guardian.
Health conditions

Participation is sometimes declined by the day's health.
Decline to accept for be drunk.

We decline a drunken person. And the case's repayment can't refund a fee.
During pregnancy

A pregnant woman can't participate in rafting.
An epileptic fit

Doctor's medical certificate is needed, mentioning of participation permission of rafting.
Handicapped person

There is dangerous risk in rafting. There are acceptance pros and cons by a case. Please consult us beforehand.