Feels good to be cold!

Wanna be excited first of all!

Super fast like a roller coaster!

Not stop laughing in the torrents!

Everyone make a big smile!

Show us your cool form by diving!
The feature of Nagaragawa Rafting
Good location from Nagoya. Enjoy rafting in the Japan three large clear river.
Rafting Fee
Credit support.

Fee
from April to the middle of October
Prices start from
JPY3,580
(including tax-10%)
JPY3,255(excluding tax-10%)
The fee depends on the date and course.
the charge after reservation discount on the website
including wet jacket and accident insurance
Meeting Time
usual season
start9:00 finish12:30
start13:00 finish16:30
busy season
start9:00 finish12:30
start12:30 finish16:00
start13:00 finish16:30
Finish time depend on the condition of the river.
Age Limit
Minimum age is 7, and under 12 must join with a parent or a guardian.
Rafting Fee
(WEB Discount)

Year:2023Month:6 Booking & PriceSheet

Click the date (schedule).A rate list is indicated.
Introduction Nagara Rafting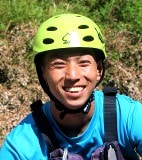 It takes 1 and a half hour from Nagoya by Tokai-Hokuriku Highway. You get an exciting and thrilling experiences on Nagaragawa Rafting. Nagaragawa of Gifu, is circled by great outdoors, and the best spot for rafting. You can relax and refresh in the clearly river water. We have free parking lots for 200 cars.
[continued from here]
And also we recommend you outdoor sports and camp site before and after rafting. You can enjoy rafting both the morning course and the afternoon course, a half day tour, it is a reasonable price and a handy activity for a group and family. It is good for your summer vacation♪
Tour Schedule
Meeting at Nagaragawa Base♪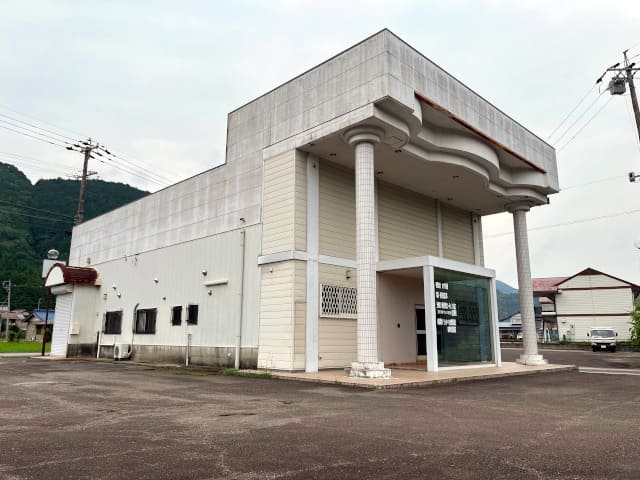 Nagaragawa Meeting base is in the area of "Hotel Gujyo Hachiman" by Route 156. In the hotel has free parking lot for rafting customers. It takes about 1 hour by Highway from Gifu, and about 1 and a half hour from Nagoya.
More infomation

Before the meeting time, you fill in the participation application form. And after that,change for the wet suit in the clean and comfortable room with air conditioners. There are coin lockers and air conditioner in changing rooms, Also enough of free wet suit and variety of sizes(XS~4XL)

After you changed, put on a life jacket and helmet with a paddle.
From 100 centimeters of height, 140 kilograms of weight being prepared.

Now we are going to the starting point by our passenger's bus. Getting and coming excited!
Now we are here!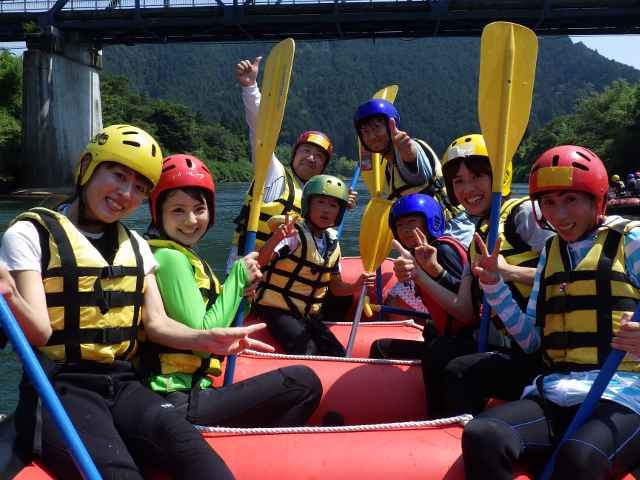 After the tour guide explains about safety and practicing of paddling, we will go down the river. Let's enjoy the greatest scenery in Nagaragawa River.

No need to worry

Most of people are beginner for rafting. But no sweat because our tour guides teach you how to raft the boat. Let's do it as a team!
More information

These are today's boats for you. This boat is 9 seats of the biggest basis(sometimes 7 seats)

At first, rowing a boat practice. Of BIGSMILE, friendly tour guides teach you it kind politeness gently. Any questions OK!

It is time to beginning! Please enjoy the thrill which can't be tasted by ordinariness and extraordinary feeling.
Give it a go!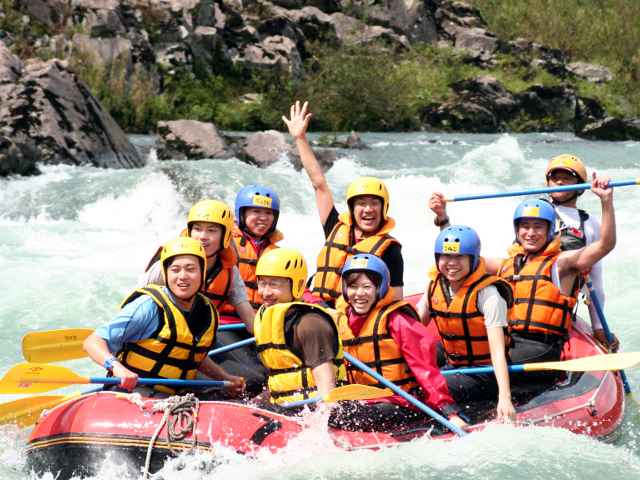 Let's go toward the goal point by everyone.
More information

At the torrent point, tour guides takes pictures. So please look at the camera, if you can. But maybe it is so tough because the big waves attack you!

Each one boat, one tour guide rides on the boat. The guide explains safely tightly so that the one even beginners swim to be able to participate.

The place where a flow on a river is gentle, we have some chance. We can see the local trains of Nagaragawa Railway and some Ayu fish( sweetfish) in the river. With we are lucky, we can see a giant salamander as a natural monument.
Some activities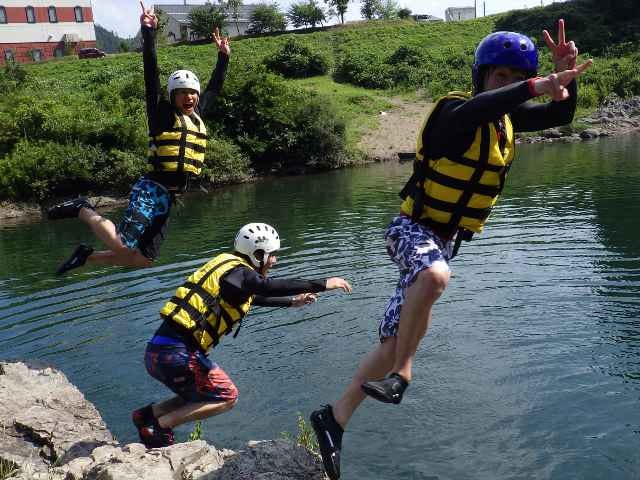 During the rafting, we can do some activities, swimming in the river and jumping from a rock.

Go for it!

Both the morning course and the evening course, there are 2 points of jumping into river from about 3 meters-high rock. You could give it a try!!
More information

At the swimming area, you can swim and float in the river. You are satisfied with clearly water of Ngaragawa.

Using a rafting boat, we do some activities "Seesaw" and "TITANIC". By a day and different in the activities you can do.

At the river beach or the shoal, we can do some more activities. Let's take a picture,say "Yes, cheese".
~Arrive at the goal point~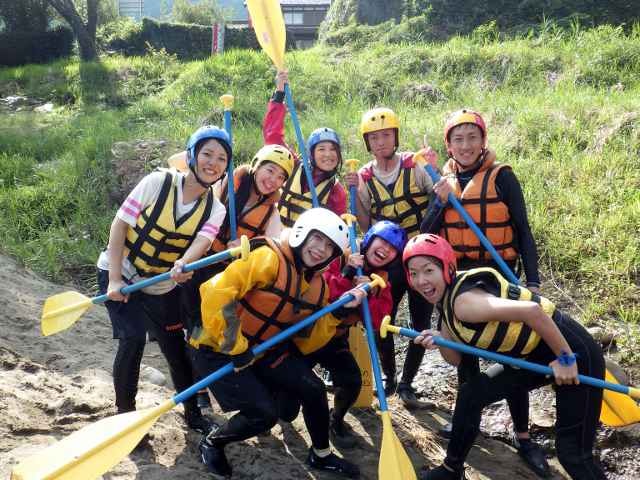 The tour time is about one hour or one and a half hour. Take a picture with a smile!!
More information

We will go back to the Nagaragawa Meeting base by our passenger's bus. Finally,screenings of photographs taken today. You are sure to get an unique and unforgettable trip.

Why don't you go to Hot Spa after rafting. In the same area as Nagatoro Meeting base, there is a Hot Spa "Hosen no Yu". We have a discount ticket for the Hot Spa for you.


The guide is also much by gratitude. We are looking foward to the day when wa can meet again.

What you need?
helmet, life jacket ,paddle and so on are prepared by BIGSMILE for free
It depends on the weather situation of the day, we prepare another wears.
You need to prepare for Nagaragawa Rafting
bathing suit
Towel
Shoes for rafting (It will get wet)
during summer sunny days (July to September) who don't need wet suit
who wear glasses and contact lenses
More information of Nagara Rafting

We prepare for you

wear

paddling jacket(on the left)

We have paddling jackets for windy and rainy weather for protect you from cold climate. You are not strong to the cold, you wear it.

wet suits(in the middle)

The wet suits, we prepared is made of neoprene material. You can enjoy rafting with this wet suit even in the cold weather. Enough to wet suit and variety of sizes(XS~4XL) But we don's have enough 4XL size, please contact us beforehand.

wet jacket(on the right)

In the cold day or you are not strong to the cold, we are ready wet jackets for you. There are a lot of situations idle at a river for a child, so the child wears a wet jacket for all seasons.

gear

helmet

In the river, there are many rocks and drift wood. You need to wear a helmet to protect your head. We have various sizes.

life jacket

For your safety, you have to wear a life jacket one by one. Whenever you are not good at swimming, you can float on the water with the life jacket.

paddle

Paddles are an essential element of rafting. We row the boat with the paddle. We have a small size paddle for a child.

You need to bring yourself

necessary belongings

bathing suits

You wear your bathing suits under the wet suits. Underwear is substitute for bathing suits. the underwear get wet in the river water, bring your one more underwear for changing.

towel

After the rafting, you use your towel in the changing room for dry your body. You don't bring it to the river.

Paid rented

shoes for rafting

Please bring your sport sandal or sneakers. CROCS are not good, because heels should be firmly fixed. You can rental our shoes for JPY300/ for each pair.

other belongings

sunscreen

Cause of reflection of ultraviolet rays is strong, it's very easy to get a tan in the river. You should bring sunscreen, waterproofing sunscreen is more good to protect you.

disposable contact lens

We don't recommend the type of hard contact lenses. Even if you wear soft contact lenses, contact lens often come off in the water. You can rent our goggles for JPY100/ for each. And also we are ready for you who wear glasses rent glasses band for JPY100/ for each.
Access to Rafting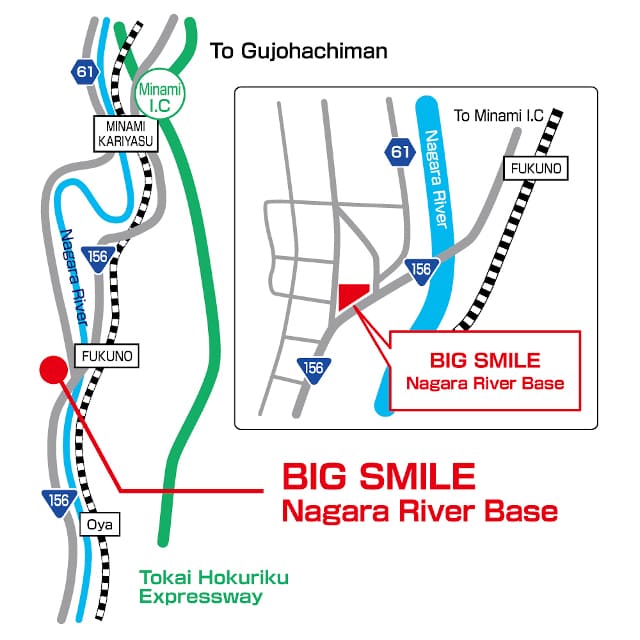 Meeting Place

BIGSMILE Nagaragawa base
direct phone line
Address

ZIP-code: 501-4206
200 Yoshino, Hachiman- cho, Gujyo-shi, Gifu
Nagoya area→ Ichinomiya JCT → (Tokai-Hokuriku Highway) → Minami I.C. → 20 minutes to Gujyo Hachiman on the Route 156 → Nagaragawa base
Takayama area→ (Tokai-Hokuriku Highway)→ Gujyo Hachoman I.C. → 15 minutes to Minami on the Route 156 → Nagaragawa base
In the Hotel Gujyo Hachiman area, free parking lots

Please set up the car navigation system "Hotel Gujyo Hachiman".


JR Nagoya Station→ (Tokaido Main Line)→ JR Gifu Station→ (Takayama Main Line)→ Aioi Station→ (18 minutes walk)→ Nagaragawa base

Between Mino Ota Station and Aioi Station have 1 train for one hour.
Please check the time table of trains.
Nagara Rafting Course Map
Screaming without even thinking!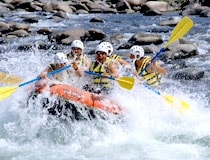 We pour water on myself from the beginning and go down the river. Rafting make us split our sides by laughing.
Our mind and body refresh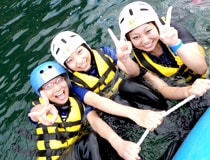 We do some activities like a jumping and swimming in the river. Let's have a wonderful time together. Sometimes you can see a salamander♪
You can refresh by Nagatoro River, crystal clear water. And you have a good time on your holiday with your friends and family. Even if you are not good at swimming, you are OK! Our tour guides explain safely tightly so that the one even beginners swim to be able to participate. And we prepare life jackets and helmets for safely. Come and Enjoy for your vacation by Nagaragawa Rafting.
BBQ Spot
Forest Park 373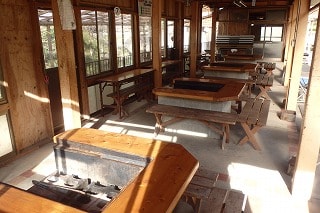 It takes 20 minutes by car from Nagaragawa Rafting meeting base to Gifu area on the Route 156, and turn right at Minami-shosha.
They have cooking ovens with a roof. Place fee is included the cost for a net, an iron plate, tongs, charcoal, you can enjoy BBQ with only ingredients and plates.
The entrance of Forest Park 373 has a big pond, for fishing. You can enjoy fishing with your friends and family.
At the Fureai Park, some events are held for kids, riding a funny bicycle and Duck-boat. There is a cottage for 10 people.
Contact
address : 998-2 Haku-san, Minami-cho, Gujyo-shi, Gifu
phone :
0575-79-3737
Info about Nagaragawa Area
Gujyo Onsen Ho-sen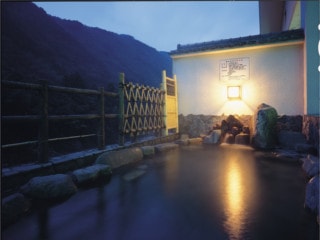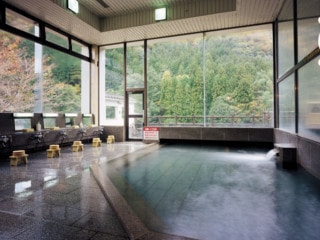 Gujyo Onsen Ho-sen is in the same area of Nagaragawa Meeting base. They have the open-air bath and sauna. Specially, we recommend you, the open-air bath. You can see a beautiful view from the bath, makes you feel relax.
They have free soap, shampoo and hair conditioner. You can lend a towel and a bath towel. It is good for the after rafting!
fee : JPY750
We have a discount ticket for you. If you want it, please ask our tour giude.
They have some restaurant and relaxing spaces.
Contact
place : 208 Yoshino, Hachoman, Gujyo-shi, Gifu
phone :
0575-63-2311
URL:
http://www.chitora.co.jp/
Shiki-Ko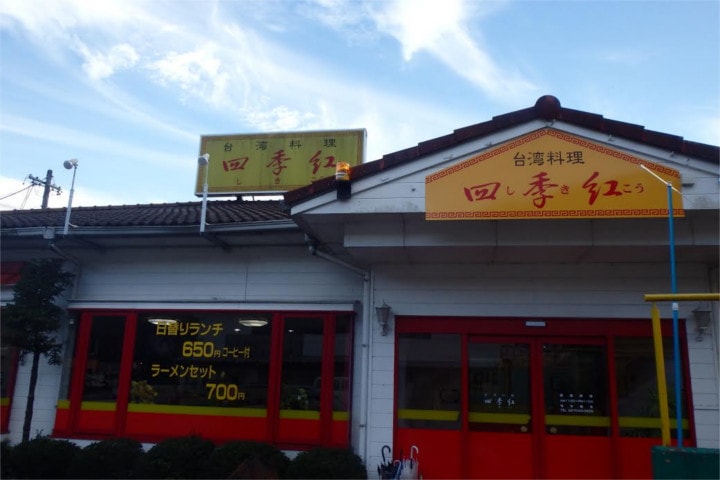 This Taiwan restaurant is in front of the Nagatoro Meeting base. Our tour guides often go and eat delicious Taiwan dishes! They have super size dishes. After rafting you get hungry much, please go to the Taiwan restaurant.
combo menu for lunch JPY50 ~
Ramen(Chinese noodles) and rice combo JPY780~
platter   JPY980~
Contact
phone :
0575-63-2826
Soba-Hachi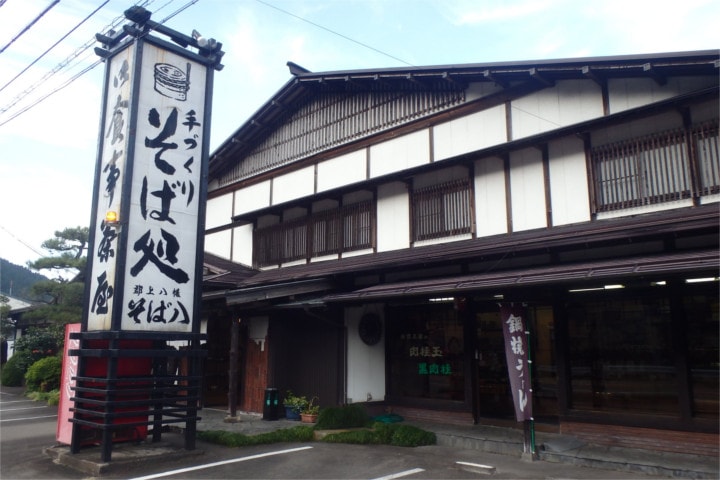 This soba(Japanese noodle) shop is located 5 minutes walk from Nagaragawa Meeting base. You can find on your right on Route 156. And it is near the Gujyo-Hachiman station of Nagaragawa railway, 7 minutes on foot. Gujyo area is famous for soba. So give it a try! They also have a shop for souvenirs.
platter menu : JPY1,130~   soba JPY550
Contact
phone :
0575-63-2826
URL:
http://www.sobahachi.com/
Let's Enjoy Together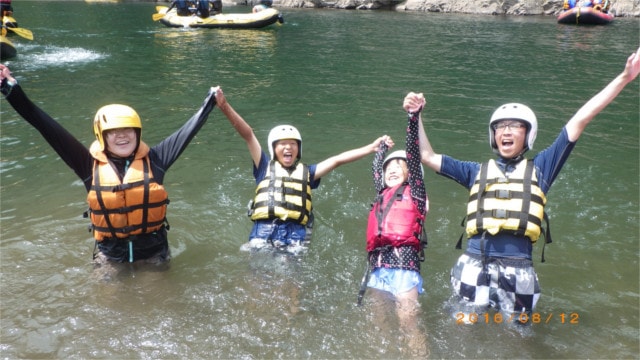 Nagaragawa Rafting is good location to try rafting, near Nagoya and Takayama. We prepare for you a wet suit and a life jacket. It is in a convenient place for on your way to sightseeing. We have 2 different types of courses, in the morning and evening. It's possible to touch a lot of nature in Nagaragawa River, so our rafting is the most suitable for child's education. Please make some good memories with your kids(Minimum age is 7) and your friends.
About Nagaragawa River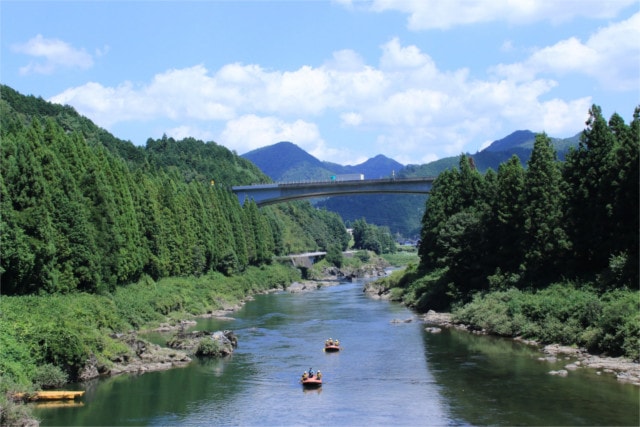 Nagaragawa River is one of Japan three large clear river. The water of the river is clearly, you can see the bottom 5 meters on the Nagaragawa River. After the rice harvesting in September, the water of the river is getting more clearly. Please enjoy rafting in the clearly water in the best season. We have a discount ticket for Hot Spa in the same area of our meeting base, if you want to. Why don't you go there after rafting?
Impressions of Nagara Rafting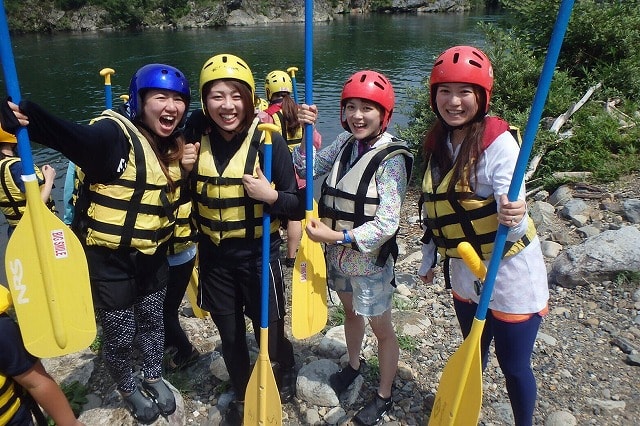 Nicknamed "Nika-san", she enjoyed Nagatoro Rafting.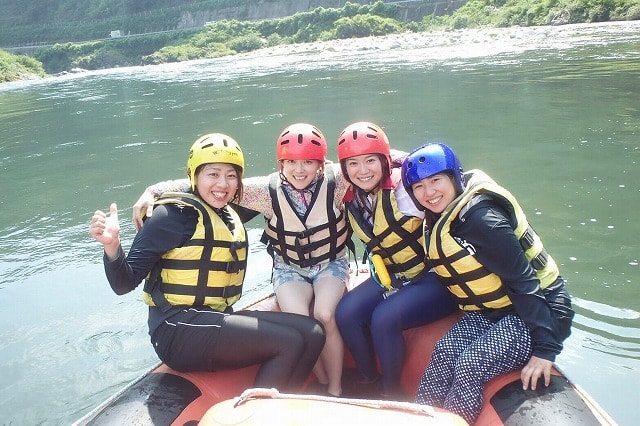 I participated in Nagaragawa Rafting with my collage classmates. Some of my friends was afraid of swimming in the river. But the tour guide made us relax and was escorted us kindly and gently.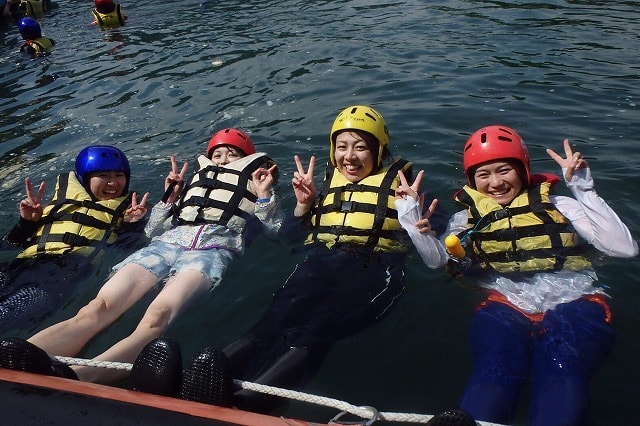 Thanks for the tour guide, we could enjoy rafting safely. We do some wobbly activities, like a "The TITANIC". What kind of activities would you like to play today?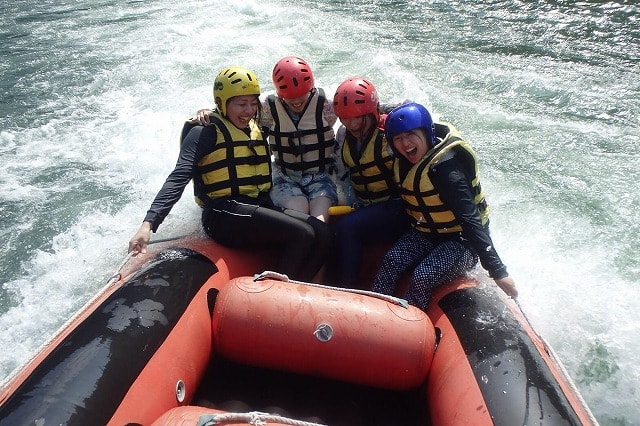 I have done rafting many times before. This rafting was the best experience for me with BIGSMILE guides.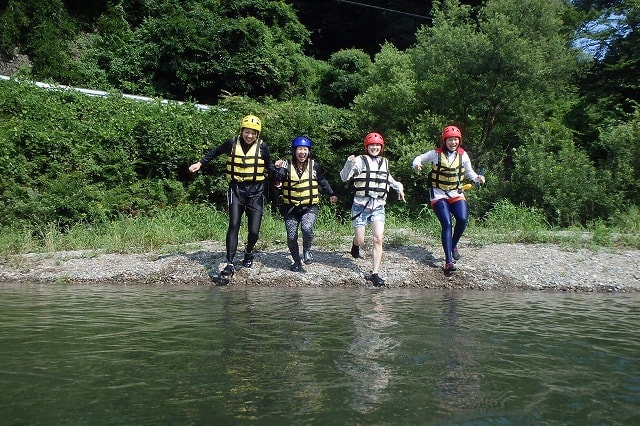 We spent great time when we can't think as half day by Nagaragawa rafting. After rafting, we went Hot Spa and had BBQ in the Nagaragawa area. I think you should try Nagaragawa rafting.
FAQ Nagaragawa Rafting
Q. How much length is Nagaragawa River rafting ?

We go down the river a different course in the morning and the afternoon. Each course is about 3.5 kilometers of distance for about 1 hour . In the morning course, when there is a lot of quantity of water, more than 1 meter of gap will be done. In the evening course, after level of difficulty of river rafting is high and the waves are high.
Q. When being late, what happens?

There is a fisheries agreement with Fisheries Cooperative Association. When you're late for more than 15 minutes, you cannot participate in the rafting, as the day's cancellation. When you are late in the time to meet, please call us.
Q. When a companion doesn't participate in rafting, is there a waiting place?

There is a river beach at the place to which you can walk from the meeting base, so you can play in water. In addition to, there is a company, Iwasaki Model Production Corporation. You can make some food samples. If you want to try it, reservation is needed beforehand.
Q. Do we go the meeting base, after changing the wet suit?

You put on the wet suit after the participation acceptance form was filled out. A bathing suit is put on under the wet suit. When a bathing suit is put on under the clothes, it's easy to ready. We will recommend a child and a lady in particular.
Q. Are 7 years old rafting possible?

You can participate in this Nagaragawa Rafting, as from 7 years old. Please take a rafting surely, because we try and are managing safety. But it depends on the quantity of water of the river, the one of less than 18 years old can't participate in the rafting.
Comment from CEO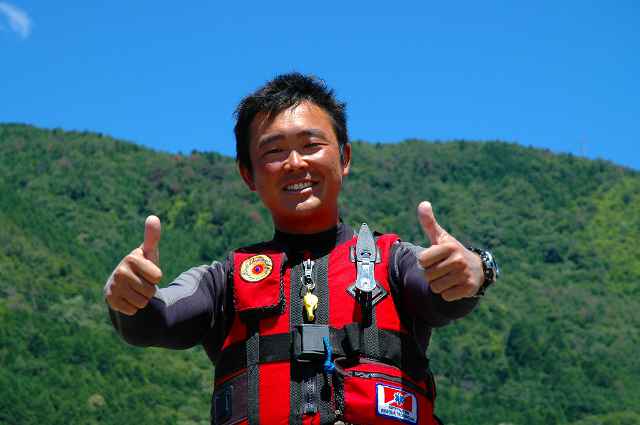 This is the best point I will recommend you Nagaragawa Rafting, the beauty of the river.
Nagaragawa is the Japan's three large clear stream. There are Ayu(sweetfish) and salamanders, only living in the clearly river.
In summer season, the water temperature is rather low, so it's recommended to rafting.Please come and see us in Nagaragawa, and we makes you happy on the rafting.
Good location from Nagoya, so give it a try!


Limits for Rafting
Age limits

Minimum age is 9, and under 12 must join with a parent or a guardian.
Health conditions

Participation is sometimes declined by the day's health.
Decline to accept for be drunk.

We decline a drunken person. And the case's repayment can't refund a fee.
During pregnancy

A pregnant woman can't participate in rafting.
An epileptic fit

Doctor's medical certificate is needed, mentioning of participation permission of rafting.
Handicapped person

There is dangerous risk in rafting. There are acceptance pros and cons by a case. Please consult us beforehand.