Enjoy with the water slider in the outdoor.

Kids have a smile as BIGSMILE Rafting.

Laugh and scream on the boat.

Floating on water with a life jacket.

Go for it! You can do it!

Feeling is a climax!

Go rafting together.

Only guys are enjoyable, of course.

Great times with the best friends.

Can not stop laughing.
Introduction Kyoto Hozu Rafting
Kyoto Hozu River Rafting is one of the best rafting spots in West-Japan area.
Rafting Fee
Credit support.

Fee
from March to the last day of November.
Prices start from
JPY2,900
(including tax-10%)
JPY2,710 (excluding tax-10%)
The fee depends on the date and course.
the charge after reservation discount on the website
including wet jacket and accident insurance
Meeting Time
usual season
start9:00 finish12:30
start13:30 finish17:00
busy season
start9:00 finish12:30
start9:30 finish13:00
start13:30 finish17:00
start14:00 finish17:30
start15:30 finish18:45
Finish time depend on the condition of the river.
Age Limit
Minimum age is 9, and under 12 must join with a parent or a guardian.
Rafting Fee
(WEB Discount)

Year:2022Month:11 Booking & PriceSheet

Click the date (schedule).A rate list is indicated.
Introduction Kyoto Rafting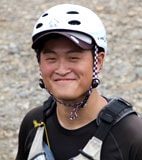 Kyoto Hozu River is the closest rafting spot in Kansai area which attracts many customers. They are the popular reasons that you can enjoy yourself easily and gentle staffs are here by kind politeness. You need a reservation, but when we have a vacant seat, the reservation is also possible on the day. Meeting place of Kyoto Hozu Rafting is 30 minutes train ride from Kyoto station. It is easy to access from Kyoto. By car or taxi, 5 minutes from Kyoto Longitudinal Expressway Shino exit about 20 minutes From MeishinHighway Ohyamazaki JCT (Via Shino I.C.) We have free parking lot for 20 cars. When being full, the nearest excellent parking lot is shown.
[continued from here]
For a friend group, lovers, a family, the best tour. The domestic maximum scale, the educated polite staff, relief and trust, be chosen from nearby 100 school trips every year. Kyoto Hozu Rafting as safe as possible for the participants from all nationalities, while still allowing everyone to experience the fun.
Tour Schedule
Meeting at Kyoto Hozu Base♪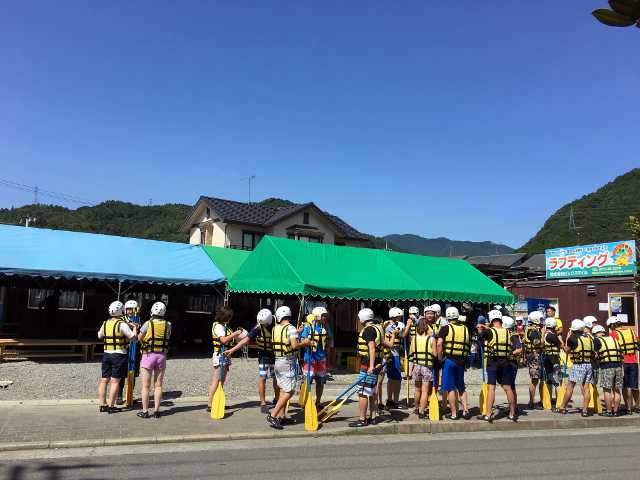 Kyoto Hozu Base is located 30 minutes train ride from Kyoto station. And we have free parking lot for cars. There are coin lockers and air conditioners in changing rooms. Also enough of free wet suit and variety of sizes(XS~4XL)
More information

Before the meeting time, you fill in the participation application form. And after that, change for the wet suit in the clean and comfortable room with air conditioners.

After you changed, put on a life jacket and helmet.
From 100 centimeters of height,140 kilograms of weight being prepared.

It takes about 5 minutes walk to starting point. Tour guide explain about safety.(sometimes at the meeting place before movement)
Let's go rafting!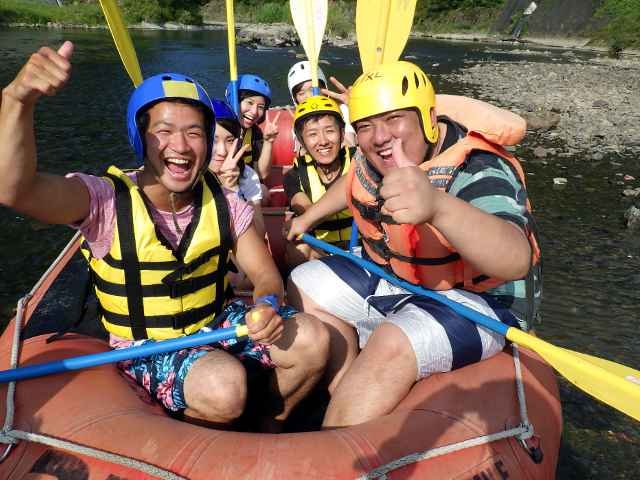 After practice of paddling, we will go down the river. Enjoy the greatest scenery from start to goal, 5 kilometers about 1 1/2 hours rafting. You can swim at calm point if you like.

While we go down a torrent on a river

Before we go down a torrent on a river, a tour guide appeals the safe posture to you. You have to do the safe pose. We also practice the safe posture a boat when rowing a boat practice.
More information

The Kyoto Hozu Halfday Rafting is being prepared a boat of at most 7 seats of basis.( sometimes prepared at most 9) We will board a boat right away. It's the moment tension rises most.

At first, rowing a boat practice. Of a BIGSMILE, friendly tour guides teach you it kind politeness gently.

Now, it's time to go down the river together. Go rafting "Miyashita no Se"( the first rapid) with breath by everyone.
Try to go down a torrent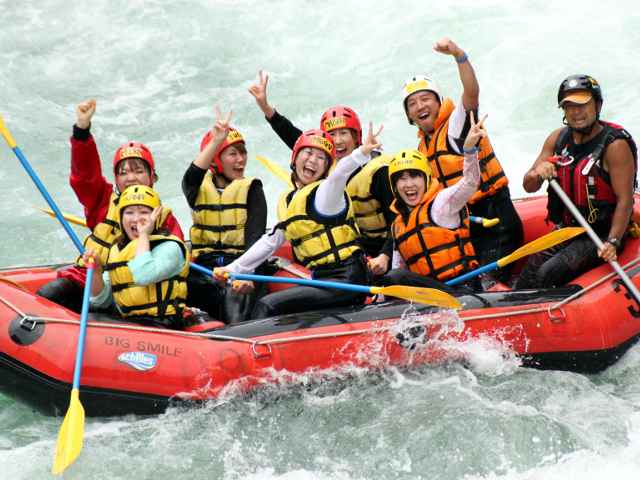 We go down torrent 8 rapids and lots of small rapids. Let's go down the river together!
More information

First, "Kanage no Se"(the first torrent)grasp a rope and go down a river tightly.

The biggest torrent of Kyoto Hozu Rafting "Koayu no Taki"(torrent like a small waterfall), let's go rafting safely.

With all our might we will go down big torrents "Ohtakase""Shishikero".
Jumping and activities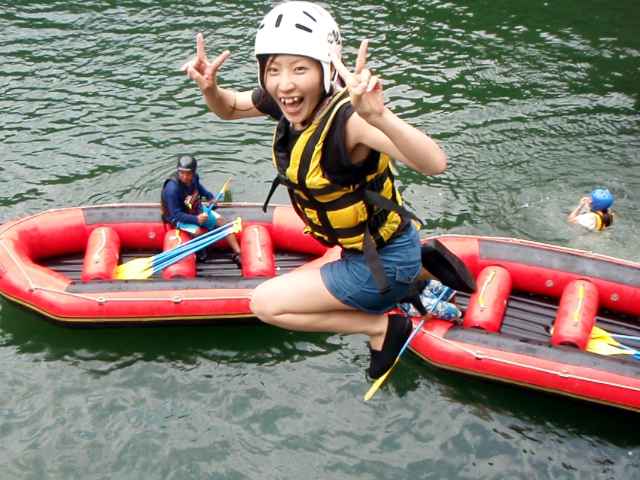 While we go down a torrent on a river, you can enjoy jumping from rocks. A bit scary, but feel so refreshing. If you don't like jumping, you don't have to. You can enjoy other activities.

Don't be afraid of jumping

Jumping from a rock, if you are OK. There are 2 types rocks, 2 meters high and 3 meters high, you can chose them.
More information

You can swim in the river at the point, if you want to. Even if you can't swim, please don't worry because the life jacket are floated you on water.

At the shallow river point, we get off a boat and do some activities. What kind of pictures can we take?

We do some activities "The TITANIC"and "Seesaw". What kind of activities would you like to play today?

Jumping by a decided point is sometimes canceled by the quantity of water of the river and the congestion situation of the day.
After we finish rafting
When we go rafting all of rapids, it is the goal. We will go back to the meeting base by train. Finally, screenings of photographs taken today.
More information

After the goal, you make a big smile, of course.

From the goal to the nearest train station, about 5 minutes walking and 4 minutes riding, go back to the meeting base(using train tickets we prepared).


At the meeting base, we change into clothes and break up. If you have a time,please check some photographs we took you today.

What you need?
helmet, life jacket ,paddle and so on are prepared by BIGSMILE for free
It depends on the weather situation of the day, we prepare another wears.
You need to prepare for Kyoto Hozu Halfday Rafting
bathing suit
Towel
Shoes for rafting (It will get wet)
during summer sunny days (July to September) who don't need wet suit
who wear glasses and contact lenses
More information of Kyoto Hozu Rafting

We prepare for you

wear

paddling jacket(on the left)

We have paddling jackets for windy and rainy weather for protect you from cold climate. You are not strong to the cold, you wear it.

wet suits(in the middle)

The wet suits, we prepared is made of neoprene material. You can enjoy rafting with this wet suit even in the cold weather. Enough to wet suit and variety of sizes(XS~4XL) But we don's have enough 4XL size, please contact us beforehand.

wet jacket(on the right)

In the cold day or you are not strong to the cold, we are ready wet jackets for you. There are a lot of situations idle at a river for a child, so the child wears a wet jacket for all seasons.

gear

helmet

In the river, there are many rocks and drift wood. You need to wear a helmet to protect your head. We have various sizes.

life jacket

For your safety, you have to wear a life jacket one by one. Whenever you are not good at swimming, you can float on the water with the life jacket.

paddle

Paddles are an essential element of rafting. We row the boat with the paddle. We have a small size paddle for a child.

You need to bring yourself

necessary belongings

bathing suits

You wear your bathing suits under the wet suits. Underwear is substitute for bathing suits. the underwear get wet in the river water, bring your one more underwear for changing.

towel

After the rafting, you use your towel in the changing room for dry your body. You don't bring it to the river.

Paid rented

shoes for rafting

Please bring your sport sandal or sneakers. CROCS are not good, because heels should be firmly fixed. You can rental our shoes for JPY300/ for each pair.

other belongings

sunscreen

Cause of reflection of ultraviolet rays is strong, it's very easy to get a tan in the river. You should bring sunscreen, waterproofing sunscreen is more good to protect you.

disposable contact lens

We don't recommend the type of hard contact lenses. Even if you wear soft contact lenses, contact lens often come off in the water. You can rent our goggles for JPY100/ for each. And also we are ready for you who wear glasses rent glasses band for JPY100/ for each.
Access to Kyoto Hozu Rafting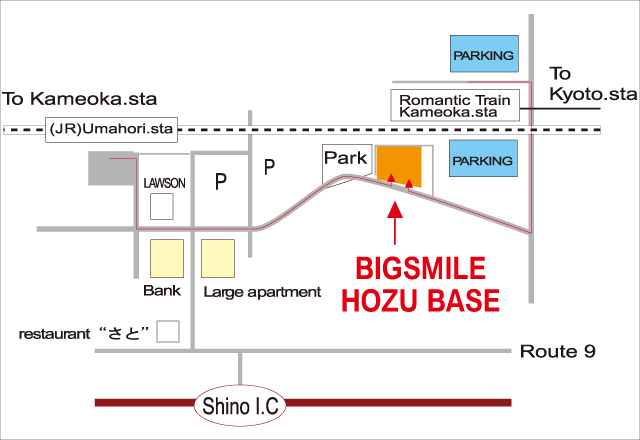 Meeting Place

BIGSMILE Hozugawa base
direct phone line
Address

ZIP-code:621- 0828
2-208- 8 Umahoriekimae, Shinocho, Kameoka-shi, Kyoto
Osaka → (Meishin Highway) → Ohyamazaki JCT → (Kyoto Longitudinal Expressway) → Shino exit → 5 minutes on the general way → BIGSMILE Hozugawa base


When it can't be set as a car navigation equipment, set 「Umahori eki( JR Umahori station)」、and then please check the map above-mentioned.


JR Kyoto Station → (JR Sagano Line) → Umahori Station → (5 minutes walk) → Kyoto Hozugawa base

JR Sagano Line has 3 trains for one hour for averages. Please check the time table of trains.

Halfday Rafting Course Map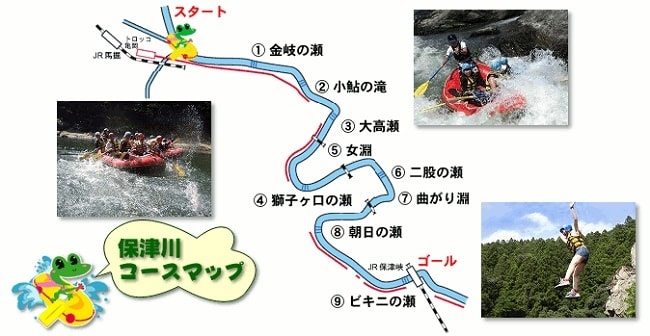 At the first torrent, Eyelash extensions fall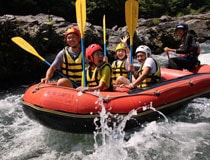 The first torrent, we call it "Kanage no Se", has big splash and waves. By the accidentally, eyelash extensions fall. Rafting the river still continues.
Jump into the river and swim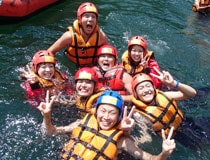 You can jump into the river and swim at the point, if you want to. Even if you can't swim, please don't worry because the life jacket are floated you on water.
From start to goal, we ride on the rafting boat and go down the natural ravine. This rafting course makes us exciting, thrilling and heart-pounding feelings by all of our team works. Not only rafting the river on the boat, you can jump from about 3 meters high rock and swim in the river or do some activities. That is the reason that we get many online reviews and reputation. A tour guide explains safely tightly so that the one even beginners swim to be able to participate. And we prepare life jackets and helmets for safely, and wet suits and wet jackets for the each season. Good located West Kansai Area, from Kyoto train station. Come and Enjoy for your vacation by Kyoto Hozu Rafting.
Sightseeing around Kyoto
Let's Enjoy Together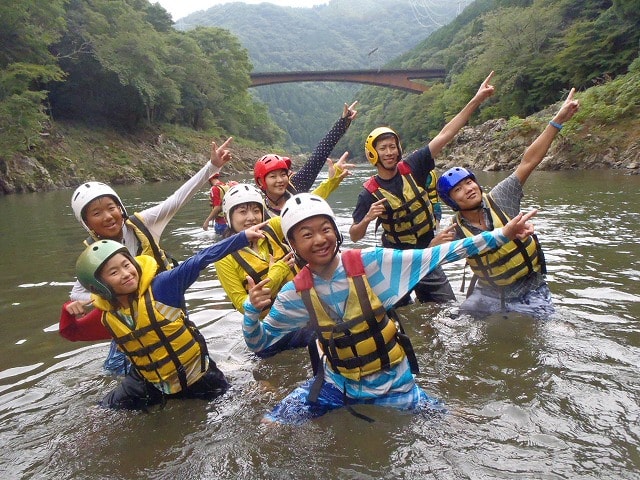 Kyoto Hozu Rafting meeting base is located only 2 train stations from Arashiyama,one of the most famous tourist spots. We recommend every ages from 9 years old to senior. Please make some memories with you.
About Kyoto Hozu River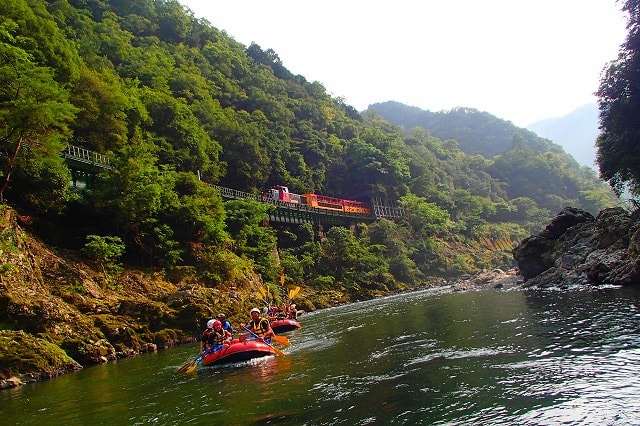 Hozu River which joins Yodogawa at Sakai with Osaka is the river with 107 kilometers of big full length through a famous tourist spot in Kyoto, Arashiyama. You can see "Hozugawakudari" ( a boat going down the river ) , trolley trains, wild animals like deer,monkeys, wild boars, if you have a chance.
Impressions of Kyoto Rafting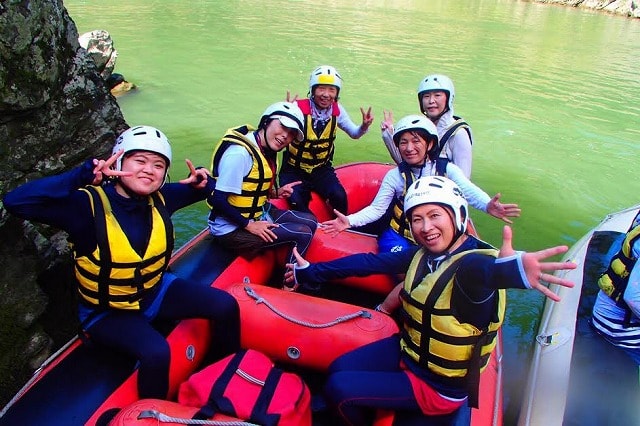 Nicknamed "Tomo-san and Amigo-san", both of them enjoyed Kyoto Hozu Halfday Rafting.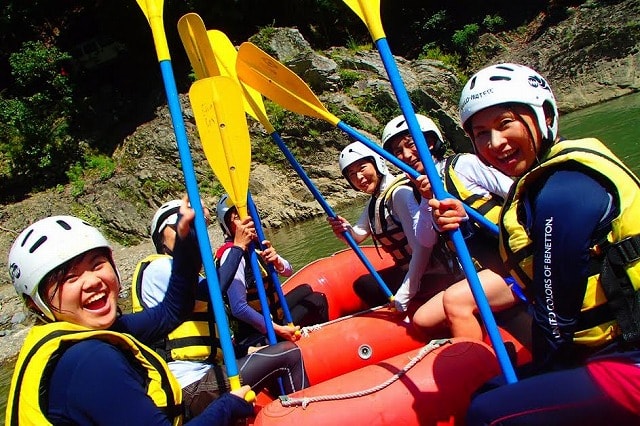 This group members are 53 years old and that was experienced for the first time. They had a fixed concept as young people's sport in rafting. But after rafting, all of them said "Awesome!"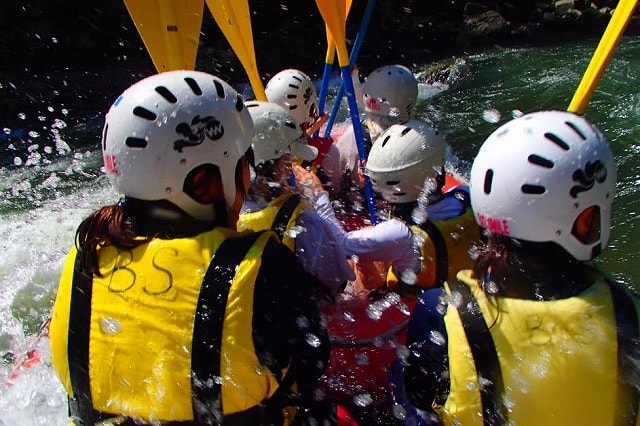 We went down a river while handling a paddle. Our feeling was the movie "Indiana Jones".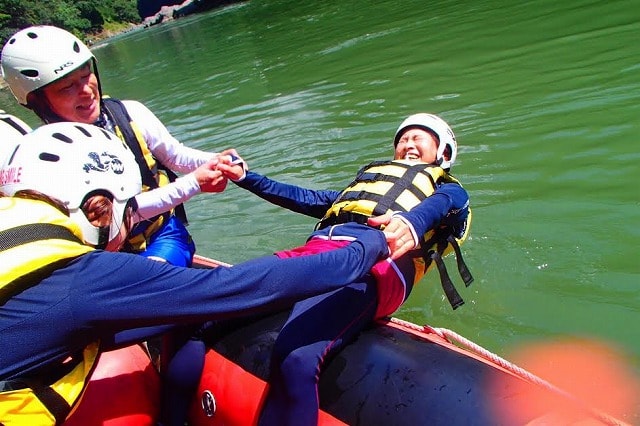 We squatted, lay down and swam as it was called by a tour guide. BIGSMILE guide's divine protection and rafting is done happily ,because they know everything of the river. Nepali's guides were also friendly.
We could do rafting happily safely. By a half-day rafting, we felt "Oh! It has been already that we end?"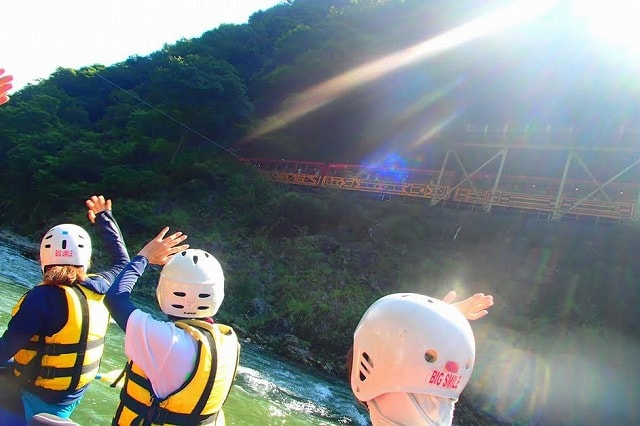 Anyway, the scenery was great, and the torrents on the river were powerful, so we want to go back and try BIGSMILE rafting again next year.
FAQ Kyoto Hozu Rafting
Q. How long does it take from JR Kyoto Station?

It takes about 30 minutes by train. You should take a local train and get off at Umahori Station. And 5 minutes waling. Please look up "Kyoto Hozugawa rafting BIGSMILE" on Google Map.
Q. Is there a parking lot?

Yes, we have free parking lots for 30 cars( in the order of arrival). When it has already fulled, you can park a car in parking area with charge near JR Umahori Station.※If you come here on the sightseeing bus, can I have a contact beforehand?
Q. How much length is Kyoto Hozu River rafting ?

We go down the river about 5 kilometers of distance for about 1 and a half hour. Not only rafting, we have a lot of points to swim and jump in the river. ※It depends on the season or the condition of the river.
Q. After doing a goal, what is done?

After the goal, we take a train using tickets we prepared at "Hozukyo Station"and go back to Kyoto Hozu Meeting base. ※Please be careful we don't finish at the goal. After that, at the meeting base, we change into clothes and break up.
Q. When a companion doesn't participate in rafting, is there a waiting place?

There is a river beach at the place to which you can walk from the meeting base, so you can play in water. In addition to, there is the horse cart near trolley train station(Wednesday is closed), and you can feed horses.
Comment from CEO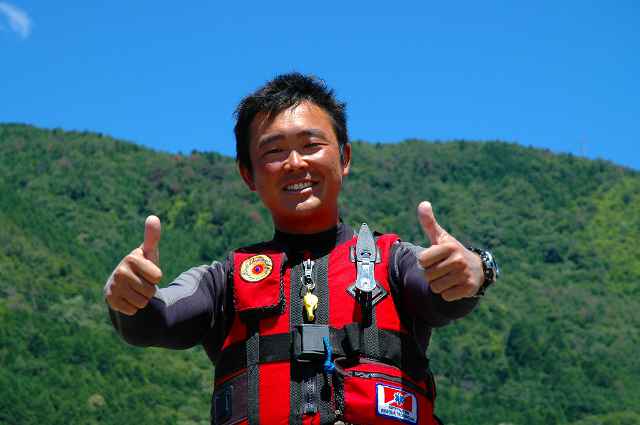 I recommend you, Kyoto Hozu rafting is the best scenery spot in West Japan area.
You can also enjoy beautiful scenery, cherry blossoms in spring, refreshing fresh green in summer, colorful of leaves in autumn, and then morning mist in spring and autumn.
It's outstanding in access from Kyoto by trains or cars.
Please come to experience it according to the Kyoto sightseeing by all means.

Limits for Rafting
Age limits

Minimum age is 9, and under 12 must join with a parent or a guardian.
Health conditions

Participation is sometimes declined by the day's health.
Decline to accept for be drunk.

We decline a drunken person. And the case's repayment can't refund a fee.
During pregnancy

A pregnant woman can't participate in rafting.
An epileptic fit

Doctor's medical certificate is needed, mentioning of participation permission of rafting.
Handicapped person

There is dangerous risk in rafting. There are acceptance pros and cons by a case. Please consult us beforehand.