Fresh water makes you refresh♪

Have a wondeful time with your best friends!

Good memories of standing under a waterfall♪

Have a good time with your family!

Make a big cirale! YEAH♪

The biggest waterfall INARI-no-TAKI 20 meters high!!
Introduction for Minakami canyoning in Gunma
Gunma Minakami Canyoning has the largest canyon in East-Tokyo area.Adventure in nature!
Canyoning Fee
Credit support.

Fee
from The middle od July to the last ten days of October
Prices start from
JPY6,580
(including tax-10%)
JPY5,982 (excluding tax-10%)
The fee depends on the date and course.
the charge after reservation discount on the website
including wet jacket and accident insurance
Meeting Time
usual season
start9:30 finish12:00
start13:30 finish16:00
busy season
start9:00 finish11:30
start11:30 finish14:00
start14:00 finish16:30
Finish time depend on the condition of the river.
Age Limit
Minimum age is 11, and under 16 must join with a parent or a guardian.
Rafting Fee
(WEB Discount)

Year:2022Month:10 Booking & PriceSheet

Click the date (schedule).A rate list is indicated.
Introduction for Minakami Canyoning in Gunma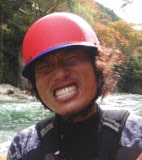 It is called one in Japan three large rampageous river as well as Chikugo-gawa in Kyushu area and Yoshino-gawa in Shikoku area at the first-grade river where Tonegawa basin system is a main current, and have a nickname of "Bando Taro". Minakami area blessed with nature where is located in the Gunma northernmost point and circles a town in the mountains in one Tanigawadake of 100 famous mountains of abundant water source such as Tone River.When using a freeway or the bullet train from Tokyo central area, it is the outdoor sacred place where you can go in about 1 hour and a half!
[continued from here]
Our Canyoning is most suitable for your friends' group and lovers' group. Because of the domestic maximum scale, our BIGSMILE polite staffs will guide you the educated favor which can be done. Once you try Minakami Halfday Canyoning, you will become addicated.
Tour Schedule
Meeting at Minakami Base♪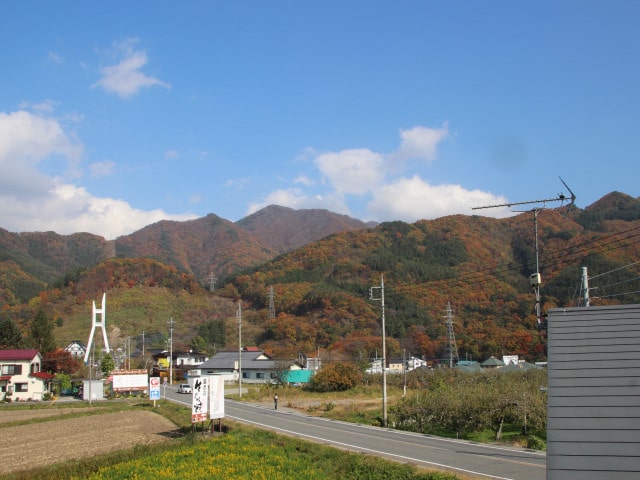 We can pick up you from JR Minakami Station or Jyomo-Kogen bulltrain Station(A reservation is needed) Our meeting base is located near Manakami Express IC , takes about 2 minutes by car. You can use our free parking lots.Our fitting rooms have air conditioners and safty boxes.
More information

Before the meeting time, you can fill in the participation application form. And after that, change for the wet suit in the clean and comfortable room with air conditioners.

After you changed, put on a life jacket and helmet.
From 100 centimeters of height,140 kilograms of weight being prepared.

You move to the starting point by our bus. It is not so long time because of nice location!
At the starting point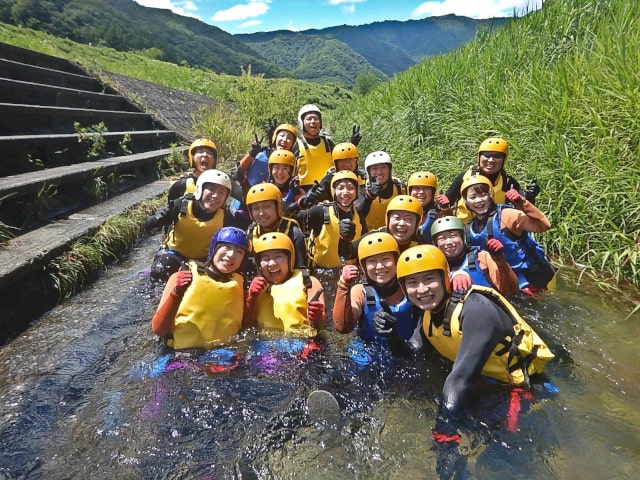 After you are ready, move to our starting point by our bus.It takes about 5 minutes. Let's roll up our sleeves!!Our canyoning guides have the safe explaination for you.

It is OK if you are not good at swimming!!

Because you wear a life jacket to float your body in the river. You can jump from a rock, if you want to try it.
More information

Our canyoning guides have the safe explaination for you. Our guides explain to you, so ask some questions when not understanding.

How to make a good pause,Both feet are turned to the lower class direction by the posture on its back. The posture still saving a foot from a surface of the water.It is like a sea otter.

First, watch your step.It is time to go to the waterfall!
Challenge Canyoning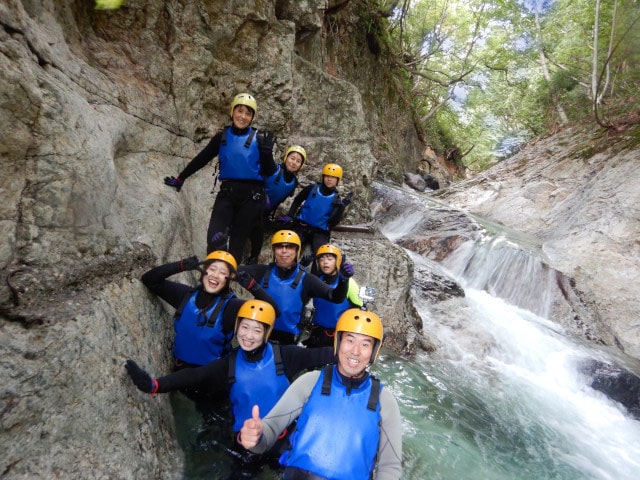 We take 400 meters canyon for one or one and half hour and get off. We have many ways to get off the canyoning, jumping, roping and so on.
More information

Waterslider in nature♪Let's float down comfortably.

Swim in the river!.

Enjoy the real trill♪Let's experience nature with the whole body.
Let's get over the waterfalls!!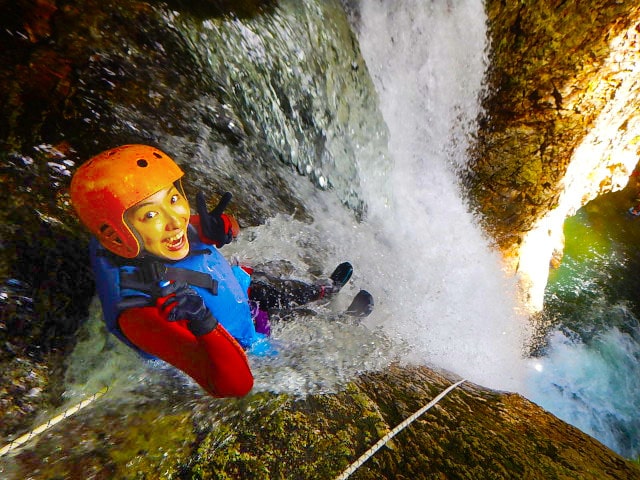 The highlight of the waterfall is INARI-no-TAKI, fox canyoning.The biggest and highest canyon in East-Tokyo!

Jump into the waterfall basin!!

Challenge it if you want to try!Our canyoning guides have the safe explaination for you.
More information

This is the second waterfall, Abyss Waterfall!! It has 7 meters high. Slide down from your head to the waterfall basin!

This is the waterfall, KAMA-no-TAKI, like a pot.Dive into fresh water!! It is a little bit different diving into the clear water♪

You can slide in the waterfall like a water slider! Have fun!!

After goal

Let's all have the best BIGSMILE! We go back our meeting base by our bus. Please check the pictures our Canyoning guide took.

More information

Let's go back to our meeting base from the goal point bu our bus.It is only a few minutes.

You can take a shower at our meeting base.Please take a shower with your wet siut or swomsuits.

Slay! Let's check our photoes!You can get your free photoes @BS Minakami LINE
You can take away your photoes our Canyoning guides with your smartphone for free.
What you need?
helmet, life jacket ,paddle and so on are prepared by BIGSMILE for free
It depends on the weather situation of the day, we prepare another wears.
You need to prepare for Minakami Canyoning
bathing suit
Towel
Shoes for Canyoning (It will get wet)
who wear glasses and contact lenses
Access to Minakami Canyoning
Meeting Place

BIGSMILE Minakami base
direct phone line
Address

ZIP-code:379-1616
382-2 Kawakami, Minakamicho, Tone-gun, Gunma
Tokyo area → (Kanetu Expressway) →Minakami IC → Route291(2minutes) →Minakami Meeting Base

When you come here by bullet train, please get off Jomo-Kogen Station. JR Station is Minakami.
Tokyo → (Jo-Etsu Bullet Train) → Jomo Kogen Station(8 ㎞ from our Meeting Base)
We can pick up you from JR Minakami Station or Jyomo-Kogen bulltrain Station(A reservation is needed)
Good points of Minakami Canyoning
The largest waterfall IANRI-no-TAKI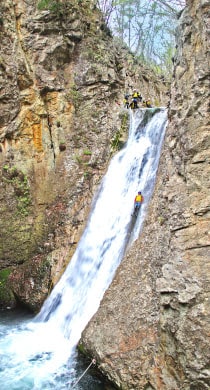 This is the main waterfall, INARI-no-TAKI, fox canyoning.The biggest and highest canyon in East-Tokyo! The canyoning guide drops you off at a rope even half and slip by a slider half!After getting over fear slipping and getting off, you will be satisfied.
Abyss Waterfall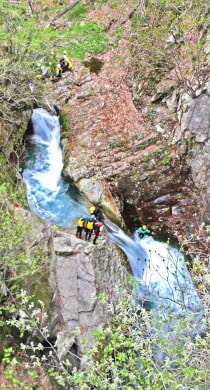 7 meters high waterfall!Youncan slide down from your head to the waterfall basin!Fall into the bottomless pit
Let's try some canyonings with your friends and family!You may shrink back with the great outdoors at the front. Let's encourage each other and enjoy the adventure!When you try that once, you will become addicted, 30 meters waterfall, slider, waterfall basin and some activities. We have good location near Minakami IC Highway.
Minakami Halfday canyoning FAQ
Q. What is the difference shower climbing , river climbing and canyoning ?

Canyoning goes down a valley stream, a waterfall and jump into a basin Shower climbing enjoys climbing a vally stream Originally river climbing takes a route of mountaineering.Different feeling does respectively, but difference has almost disappeared . You can enjoy three types of Minakami Canyoning Adventure
Limits for Canyoning
Age limits

Minimum age is 11, and under 16 must join with a parent or a guardian.
Health conditions

Participation is sometimes declined by the day's health.
Decline to accept for be drunk.

We decline a drunken person. And the case's repayment can't refund a fee.
During pregnancy

A pregnant woman can't participate in Canyoning.
An epileptic fit

Doctor's medical certificate is needed, mentioning of participation permission of Canyoning.
Handicapped person

There is dangerous risk in Canyoning. There are acceptance pros and cons by a case. Please consult us beforehand.