Fool around and make a big smile

Have a good summer vacation!

We are on good family!

Enjoy weekends with your family

Have a nice rafting time

You are our greatest treasure!
The feature of Tokushima Family Rafting
Tokushima Family Rafting spots in Japan.
Rafting Fee
Credit support.

Fee
from the middle of July to the first 10 days of September
Prices start from
JPY4,980
(including tax-10%)
JPY4,528(excluding tax-10%)
The fee depends on the date and course.
the charge after reservation discount on the website
including wet jacket and accident insurance
Meeting Time
start8:30 finish11:30~12:30
Finish time depends on the condition of the river.
Age Limit
Minimum age is 7 , and under 12 must join with a parent or a guardian.
Rafting Fee
(WEB Discount)

Year:2023Month:9 Booking & PriceSheet

Click the date (schedule).A rate list is indicated.
Introduction Tokushima Raft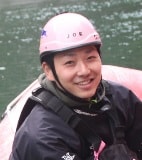 Authentic rafting on the Yoshino River in Tokushima, Shikoku, with participants from elementary school age! The Yoshino River has a number of rapids, and the family course offers an authentic whitewater rafting experience. This course is safe enough for elementary school students and up, so you can enjoy the rapids and the great outdoors safely and securely! Surrounded by big mountains, you can enjoy swimming and playing games in the clear water! All of our guides are rescue certified, so you can be sure of a safe and secure tour. Access is a 10-minute drive from the Ikawa-Ikeda IC on the Tokushima Expressway in Shikoku. We have a parking lot with space for over 20 cars. Advance reservations are required, but same-day reservations are possible if space is available.
[continued from here]
We recommend you Yoshino River area because there are many Hot Spa and campsites. The Yoshino River area is a great place for outdoor activities and camping! We have received many word-of-mouth reviews and referrals due to the popularity of being able to enjoy the area before and after rafting. This half-day course is easy to join, reasonably priced, and recommended for summer family vacations in the Shikoku region.
Tour Schedule
Meeting at Ikeda Base♪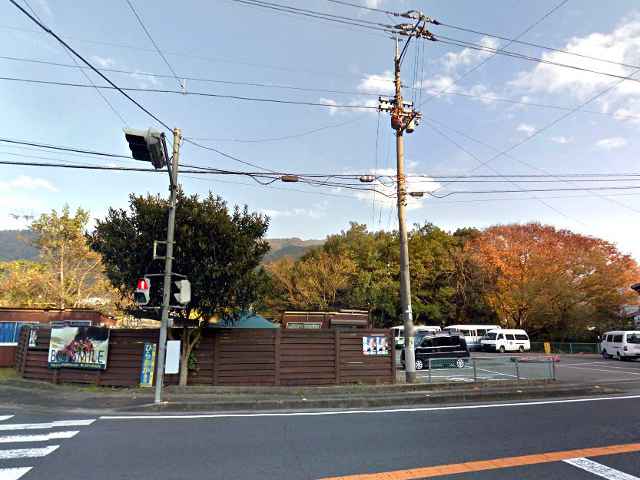 Ikeda Base of Tokushima Yoshino River rafting is located in riversade, have free parking lot for cars. We have enough of free wet suit and variety of kids' sizes, XS-4XL.
More information

Before the meeting time, you fill in the participation application form. And after that,change for the wet suit in the clean and comfortable room with air conditioners.

After you changed, put on a life jacket and helmet.
Go to the starting point by our passenger's bus.

You will be bussed to the starting point. Our staff will give you a safety briefing.!
(sometimes at the meeting place before movement)
Let's go rafting!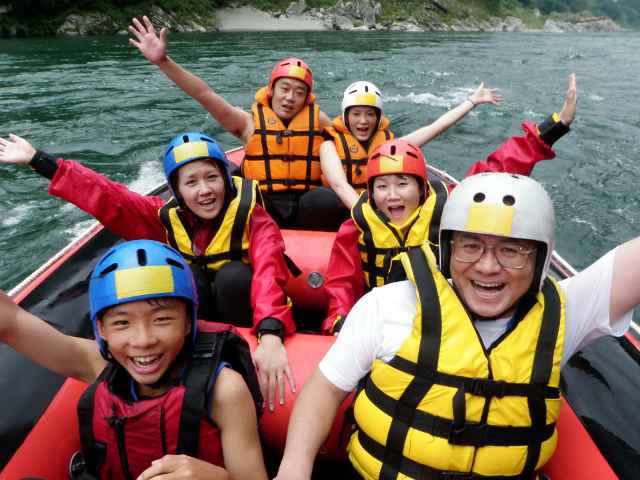 After practicing rowing the boat with a guide, you will be ready to start your rafting experience! It takes 1 to 1.5 hours to raft down the 4 km course. During the rafting, you will have a chance to play in the river, which is something you can't usually enjoy.
More information

We have boats that can accommodate up to 7 people. After a thorough safety briefing, we will get on the boat and start rafting! First, let's get on the boat. We can't wait to see the excited expressions on the children's faces.

First, practice rowing. Our friendly and gentle guides at Big Smile will guide you with kindness and care, even for the little ones! Ask them anything you don't understand!

After a good practice, it's rafting time! Gripping the paddles tightly, let's all work together to get down the clear water! Let's enjoy rafting in the clearest river in Japan!
Rafting challenge in the clearest river in Japan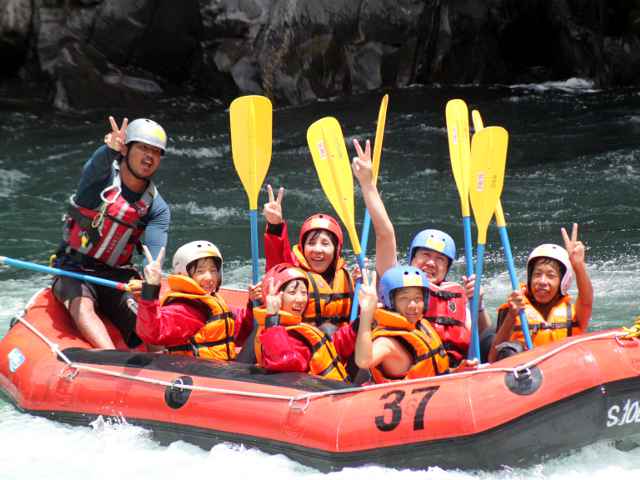 Aim for the "Tekkyo no Se"! Let's all paddle down together, breathe together, and get along well together!

You don't have to be able to row a boat.

The course is relatively gentle in the Yoshino River, and even small children can participate. And don't worry if your child gets too scared to paddle! Rafting is fun even if you are just on the boat.
More information

There is always one rescue-qualified guide on board to ensure your safety. Please have a good time.

The river is getting rough, so everyone hold on tight to the ropes and keep going! As the children get used to it, their expressions become more relaxed... let's have fun!

Finally, we've arrived at "Tekkyo no Se" Let's join forces to overcome the rapids while being splashed by a huge spray of water!
Jumping and some activities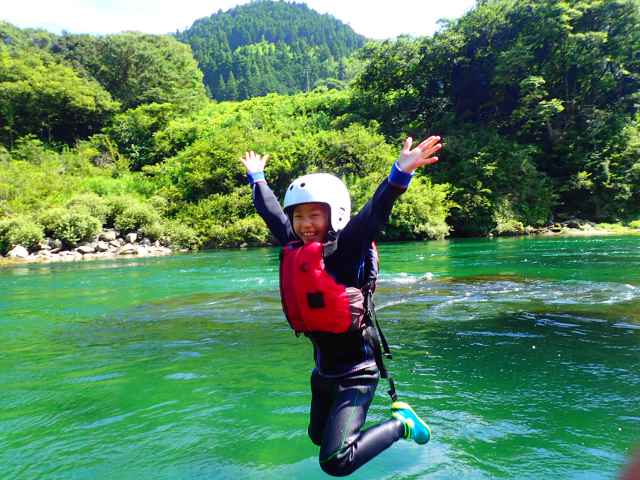 Children will enjoy jumping into the river from boats and playing in various ways as they go down the river. Please watch over your children as they grow up playing in the clear, crystal-clear waters of the river, which they would not normally be able to experience.
More information

Swimming is great fun when everyone swims together. We wear life jackets, so it feels good to float around in the water!

Let's play a variety of games. Fathers and mothers, hold the children's ropes tightly.

When we have time to spare, we play by the waterfall. You are like a ninja! What shall we do today?
After finish rafting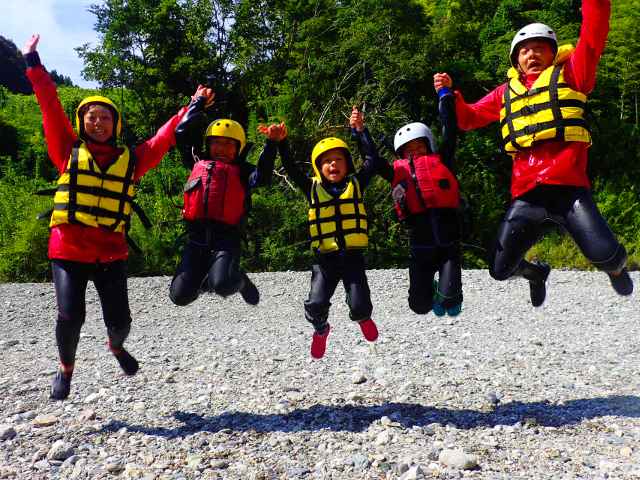 Once we get through the heavy currents together, we're all friends! When you reach the goal, get on our microbus and return to the meeting place. There will also be a screening of photos taken today.
More information

After the goal, you make a big smile, of course. "Say, Cheese!"

And then, return to Ikeda Meeting base by our passenger's bus.


At the meeting base, we change into clothes and break up. If you have a time,please check some photographs we took you today.
※ In the case of rise on a river water or the possibility case, we chance for the course to Oboke Long Course, in our tour guides to take safety priority.
What you need?
helmet, life jacket ,paddle and so on are prepared by BIGSMILE for free
It depends on the weather situation of the day, we prepare another wears.
You need to prepare for family Rafting
bathing suit
Towel
Shoes for rafting (It will get wet)
who wear glasses and contact lenses
More information of Tokushima Rafting

We prepare for you

wear

paddling jacket(on the left)

We have paddling jackets for windy and rainy weather for protect you from cold climate. You are not strong to the cold, you wear it.

wet suits (in the middle)

The wet suits, we prepared is made of neoprene material. You can enjoy rafting with this wet suit even in the cold weather. Enough to wet suit and variety of sizes(XS~4XL) But we don't have enough 4XL size, please contact us beforehand.

wet jacket(on the right)

In the cold day or you are not strong to the cold, we are ready wet jackets for you. There are a lot of situations idle at a river for a child, so the child wears a wet jacket for all seasons.

gear

helmet

In the river, there are many rocks and drift wood. You need to wear a helmet to protect your head. We have various sizes.

life jacket

For your safety, you have to wear a life jacket one by one. Whenever you are not good at swimming, you can float on the water with the life jacket.

paddle

Paddles are an essential element of rafting. We row the boat with the paddle. We have a small size paddle for a child.

You need to bring yourself

necessary belongings

bathing suits

You wear your bathing suits under the wet suits. Underwear is substitute for bathing suits. the underwear get wet in the river water, bring your one more underwear for changing.

towel

After the rafting, you use your towel in the changing room for dry your body. You don't bring it to the river.

Paid rented

shoes for rafting

Please bring your sport sandal or sneakers. CROCS are not good, because heels should be firmly fixed. You can rental our shoes for JPY300/ for each pair.

other belongings

sunscreen

Cause of reflection of ultraviolet rays is strong, it's very easy to get a tan in the river. You should bring sunscreen, waterproofing sunscreen is more good to protect you.

disposable contact lens

We don't recommend the type of hard contact lenses. Even if you wear soft contact lenses, contact lens often come off in the water. You can rent our goggles for JPY100/ for each. And also we are ready for you who wear glasses rent glasses band for JPY100 / for each.
Access to Tokushima Rafting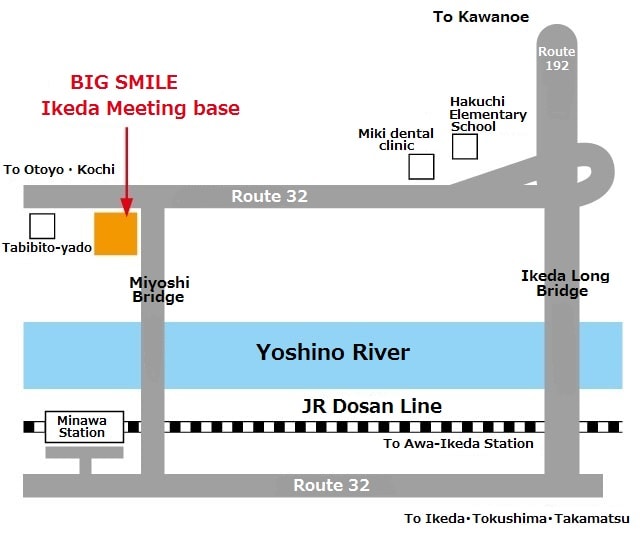 Meeting Place

BIGSMILE Yoshinogawa Ikeda base
direct phone line
Address

ZIP-code: 778-5251
240 Hakuchi-Honmyo, Ikeda-cho, Miyoshi-shi, Tokushima
Osaka area→Tarumi I.C → (Kobe Awaji -Naruto Expressway) → Naruto JCT → (Tokushima Expressway) → Igawa-Ikeda → Route 32 to Kochi are → BIGSMILE Yoshino-Ikeda Meeting base
Free parking lots in the same area




Okayama Station → (JR Seto-Ohashi Line) → Awa-Ikeda Station → (9:00 free pickup reservation required) → BIGSMILE Yoshino-Ikeda Meeting base


Please check the time table of trains.
Family Rafting Course Map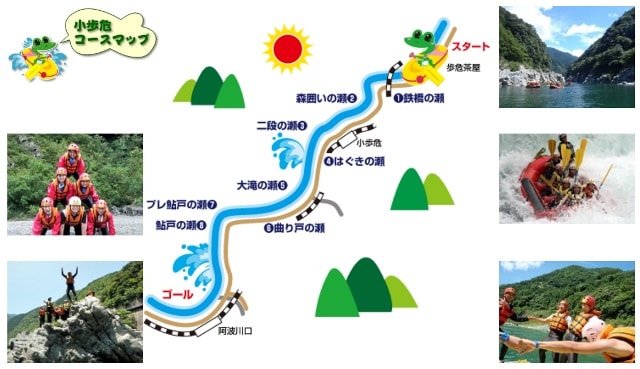 A real rapids!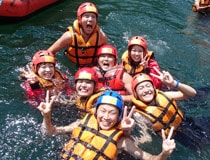 You will go down the rapids with a tremendous splash. Children and adults alike are sure to have a blast! Let's work together as a team to overcome the rapids!
Let's swim in the river!?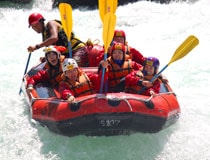 At the swim point, you can put on a life jacket and play in the water. Swimming in the river is a rare experience! Enjoy the Yoshino River with your whole body!
The charm of the Yoshino River is, after all, it is the most torrential river in Japan! The beauty of the rock surface, called Koboke sandstone schist, and the strangeness of the strange rocks and monstrous stones are also major attractions. In the Family Course, you can experience the "Tetsubashi no Sesu" in the rapids. Dangerous for elementary school students? However, the instructors are well-trained and reliable guides, and even elementary school students and beginners are welcome to join. Please feel free to join us even if you are an elementary school student or a beginner. Not only rapids, but also swimming in the river and other fun activities! Even if you are not good at swimming, our instructor will give you a safety briefing on the day of the tour, and we will provide you with life jackets and helmets for your safety. If you are not a good swimmer, our instructors will give you a safety briefing on the day, and we will provide you with life jackets and helmets for your safety.
Limits for Rafting
Age Limit

Minimum age is 7 , and under 12 must join with a parent or a guardian.
Health conditions

Participation is sometimes declined by the day's health.
Decline to accept for be drunk.

We decline a drunken person. And the case's repayment can't refund a fee.
During pregnancy

A pregnant woman can't participate in rafting.
An epileptic fit

Doctor's medical certificate is needed, mentioning of participation permission of rafting.
Handicapped person

here is dangerous risk in rafting. There are acceptance pros and cons by a case. Please consult us beforehand.
cancellation policy
Until 8days before: No charge
Until 7~4days before: charging 30%
until 3~1days before: charging 50%
on the day: charging 100%



Inn Spot around Yosino Tokushima area
Tabibito Yado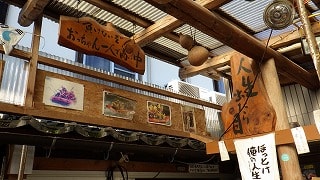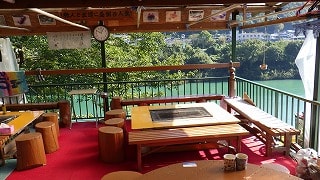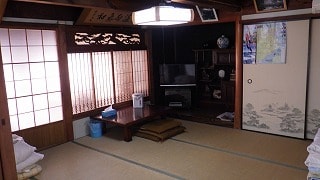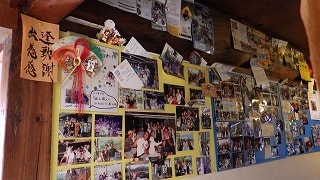 The guest house takes 30 seconds walk, next to BIGSMILE Tokushima Ikeda Meeting base.
An old man is running the business by himself. The atmosphere of the guest house seems to be relative's house or be just like family.
There are many repeaters. You can see many pictures of the guests'.
Our tour guides stay there.
You can have a BBQ there with ingredients and beverages you prepared. The guest is ready for BBQ table, plates, tongs for your BBQ.
There is a grocery store near the guest house, "Daily Mart Furespo Awa-Ikeda".
Fee for BBQ JPY500 one by one A total of 6 BBQ tables free parking lots for 10 cars.
Contact
address : 249-1 Hakuchi-Honmyo, Ikeda-cho, Miyosi-shi, Tokushima
direct phone :
0883-76-4727
Hakuchi Onsen Konishi Ryokan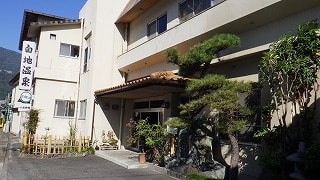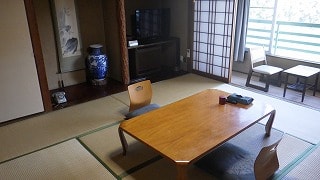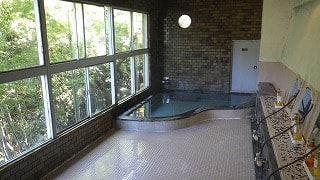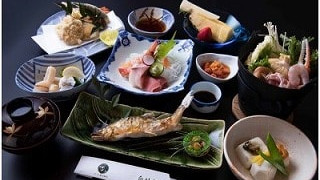 The inn takes 5 minutes walk from BIGSMILE Tokushima Ikeda Meeting base.
They have Hot Spa and delicious dish which made the most of the original of local ingredients.
Coming into season, you can Ayu(sweetfish) cuisine, Omiki nabe(pork and vegetables casserole), Botan nabe (meat of wild boar and vegetables casserole), they are famous for locals.
You can see the rafting of Yoshino River from the room.
It makes you relax and refresh.
You can take a day trip to the Hot Spa♪
Contact
address : 76-2 Hakuchi-Honmyo, Ikeda-cho, Miyosi-shi, Tokushima
direct phone :
0883-74-0311
HP:
http://hakuchionsen.com/
※ There is a charger of an electric car(EV).
Foodie around Family Rafting
Yakiniku Tanuki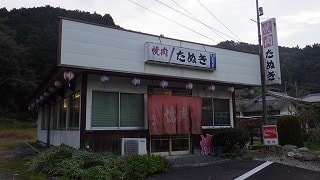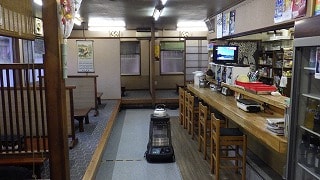 Yakiniku(grilled meat) restaurant takes 3 minutes by car from BIGSMILE Tokushima Ikeda Meeting base.
They have a local feel, and are popular among locals.
We recommend you thick sliced beef tongue and miso soup.
It's a popular dish, so it's often sold out. Give it a try!
open 17:00~21:00 (last time you can order)
Tuesday is closed
free parking lots for 15 cars
Contact
address : 477 Hakuchi-Honmyo, Ikeda-cho, Miyosi-shi, Tokushima
direct phone :
0883-74-1086
Udon Sanukiya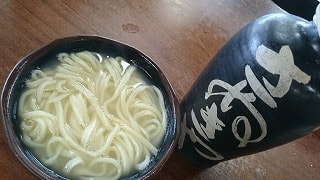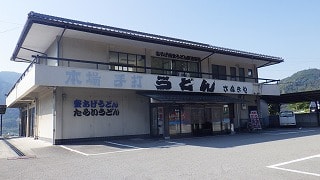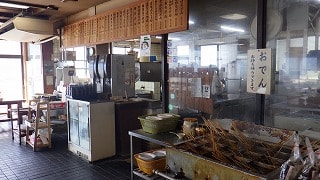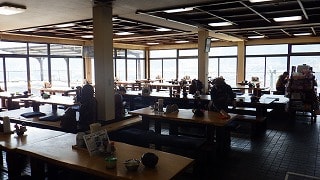 The Udon(Japanese noodle) restaurant takes 15 minutes by car from BIGSMILE Tokushima Ikeda Meeting base.
They have nice atmosphere was circled in mountains.
Their noodle is handmade and popular among locals and tourists.
And they have Oden(a type of Japanese stew, made by simmering various ingredients)with miso sauce.
Contact
address : 540-1 Fujinoi, Shudu, Ikeda-cho, Miyoshi-shi, Tokushima
direct phone :
0883-72-5125
open : 9:30~20:00 Open all-year- around
HP:
http://www.sanukiyaudon.com/